Choosing a nursery for your child can be both an exciting and daunting task, but by planning early and being well informed, you can make the process smooth and easy for you and your child. As a parent, you want your little one to be in the right hands, in a safe and stimulating environment, and above all, you want your child to be happy and enjoying that environment. That is why, it is important to choose a quality preschool, pay a visit beforehand and feel assured that it is indeed the right place for your child. We're thrilled to inform you that TODDLER TOWN BRITISH NURSERY in Jumeirah is inviting mums and dads to visit their award-winning nursery this month, and also participate in a special giveaway for a chance to win amazing discounts off nursery fees for all parents!
Toddler Town British Nursery is a leading children's pre-school in Dubai, focused on fostering and embracing holistic development of children aged from 3 months to 4 years.  Having built up a great reputation with its first branch in JBR which opened in 2012, high demand led to opening of a second branch in Jumeirah over a year ago, with an awe-inspiring environment and extensive facilities.
The 40,000 square foot Jumeirah branch is unrivalled in Dubai in terms of the thrilling and stimulating environment. A huge amount of thought has gone into making the surroundings distinctive and exciting, and the very best resources have been selected from across the world to ensure international excellence. Toddler Town also excels in comparison to other nurseries in Dubai with its low child-to-staff ratio and all classrooms fitted with CCTVs allowing parental viewing from a PC or smartphone. We think Toddler Town Jumeirah is an absolutely fantastic place for your child to begin his or her journey into the early years education. If you have a pre-schooler at home, we highly recommend that you visit the Toddler Town British Nursery in Jumeirah and participate in their special raffle competition this month.
Participate in the Toddler Town British Nursery Raffle Competition and WIN upto 50% off 1 full year's Nursery Term Fees!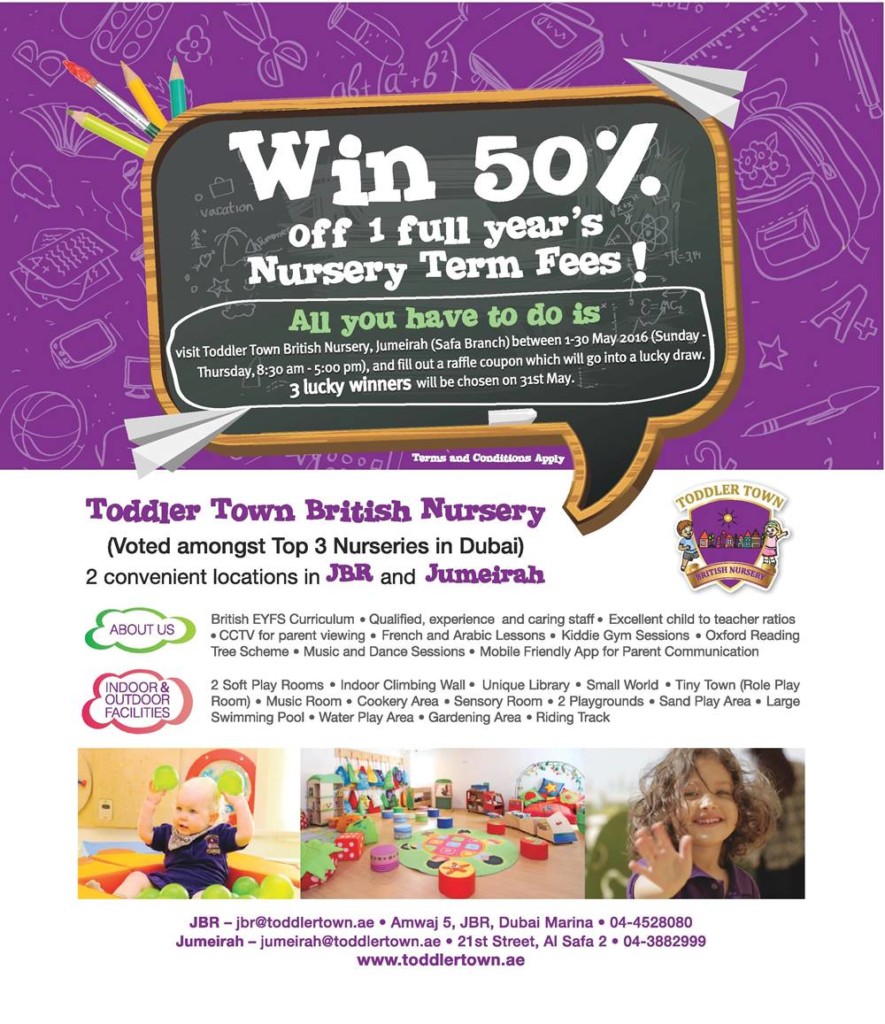 Here's an amazing opportunity for you to visit this world class nursery and Win upto 50% off 1 full year's Nursery Term Fees! To be in for a chance to win special discounts off nursery fees, all you have to do is visit Toddler Town British Nursery, Jumeirah between 1st and 30th May 2016, and fill out a raffle coupon which will go into a lucky draw. 3 lucky winners will be chosen on 31st May 2016.
1st Prize – 50% off one full year's term fees
2nd Prize – 25% off one full year's term fees
3rd Prize – 15% off one full year's term fees
EVERYONE IS A WINNER – All participants in the competition will be offered a 15% discount off of their child's first term's fees at Toddler Town, Jumeirah .
Double your chances of winning by clicking a photo at Toddler Town and uploading it on Facebook with the hashtag #ToddlerTownCompetition, which will give you a second entry in the lucky draw.
So mommies, please don't miss this unique opportunity! You can visit them anytime between 8.30 am and 6pm Sunday to Thursday, from 1-31st May 2016 and even take a campus tour to get a first-hand feel of their outstanding facility and infrastructure.
Location: Toddler Town British Nursery is very conveniently located on 21st Street , Al Safa 2, Jumeirah
For more information, contact Toddler Town British Nursery, Jumeirah on – 04 3882999
Email:      jumeirah@toddlertown.ae
Website: http://www.toddlertown.ae