Dubai's education sector has been going through rapid transformation with the launch of several new educational ventures in the past few years and many more on the way. Making an entry into the booming education sector is Sunmarke School, an ambitious new project launched by Fortes Education, one of Dubai's leading educational providers currently operating reputed educational institutions in Dubai, including the popular Regent International School and Jumeirah International Nurseries. Fortes now aspires to develop a truly exceptional school that not only inspires, empowers and enlightens students, but also enriches the community that we are part of. They are pursuing to transform that vision into reality with the launch of Sunmarke School, a premier educational institution in Dubai that's set to open doors in September 2016.
Location of Sunmarke School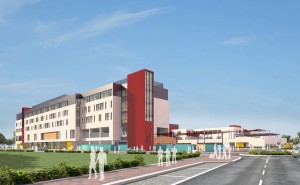 Sunmarke is centrally located in Jumeirah Village Triangle, just five minutes away from the communities of Jumeirah Park and Emaar's Greens, Springs, Meadows and Emirates Hill. The location is also very convenient for residents of nearby areas like Dubailand, Dubai Sports City, Discovery Gardens, Al Furjan and Al Barsha.
Curriculum
Sunmarke will follow the National Curriculum of England culminating in the GCSE programme in Years 10 to 11 and the A Level programme in Years 12 and 13. From the third year of operations, the school will also offer the International Baccalaureate Diploma Programme (IBDP) in Years 12 and 13. This way students will have an option to choose between 2 different curriculums after year 11, which allows them to pursue a curriculum that compliments their career pathways at university.
The school aims to deliver an academically rigorous education enriched with robust co-curricular, extracurricular and sport activities to promote holistic student development. Sunmarke's educational philosophy is based on a high impact, holistic education programme called MultiSmart Learning™ – developed by Fortes Education's pedagogues, which focuses on developing a student's "multiple intelligences" and "core Skills" like communication, personal and social development through a wide range of indoor and outdoor learning opportunities.
The curriculum will be covering all core subjects like Mathematics, English, the Sciences, Computing (ICT), Design & Technology, the Humanities, Education in Human Values, Modern Foreign Languages and Physical Education, alongside a diverse, Creative and Performing Arts curriculum comprising art and design, creative writing, music, drama, dance and ballet, debate, public speaking and many enrichment activities.
From Nursery to Secondary School
Sunmarke is open to children from Nursery to secondary school. The school has a separate nursery block within its campus operated by the Jumeirah International Nurseries (JINS), which is also part of the Fortes family of schools. Admitting children from 6 weeks to 4 years of age , JINS provides children a seamless transition from Nursery to the Early Years Foundation Stage (EYFS) in school.
The nursery offers learning through play and hands-on activities based on The Early Years Foundation Framework of the National Curriculum of England. It is also home to a large edutainment centre – the 'Learning Hub' – for experiential learning where children learn by role-playing a baker, a builder, a shopper and so on. Beyond early education and childcare, JINS will also provide aftercare and holiday care.
3-5 year olds move on to the Foundation stage (FS 1 and FS 2) where play, enjoyment and challenge form the central components to learning programmes and activities ensuring that each child develops academically, socially and emotionally with a clear understanding of the world around.
Primary School with Key stage 1 (years 1 and 2) and Key stage 2 (years 3- 6) will emphasize on both academic rigour and personal development through hands-on experiential learning, investigative work and field trips linked to topics studied in each term. Students will be encouraged to make presentations to their peers on their experiences and findings instilling confidence and communication skills from an early age. Mathematics, science and literacy programmes offered at different stages are based on scientific principles that encourage reasoning, rational thinking and application to real life. Arabic or French are offered as second languages. A third foreign language chosen from German, Hindi, Japanese, Mandarin, Russian or Spanish is also offered as part of the curriculum during or after school hours.
Secondary School continues with the National curriculum through key stages 3 and 4, followed by Sixth form (year 12 and 13 A level programme of study). Transition from nursery and Foundation school to primary and secondary schools is seamless and hassle free at Sunmarke.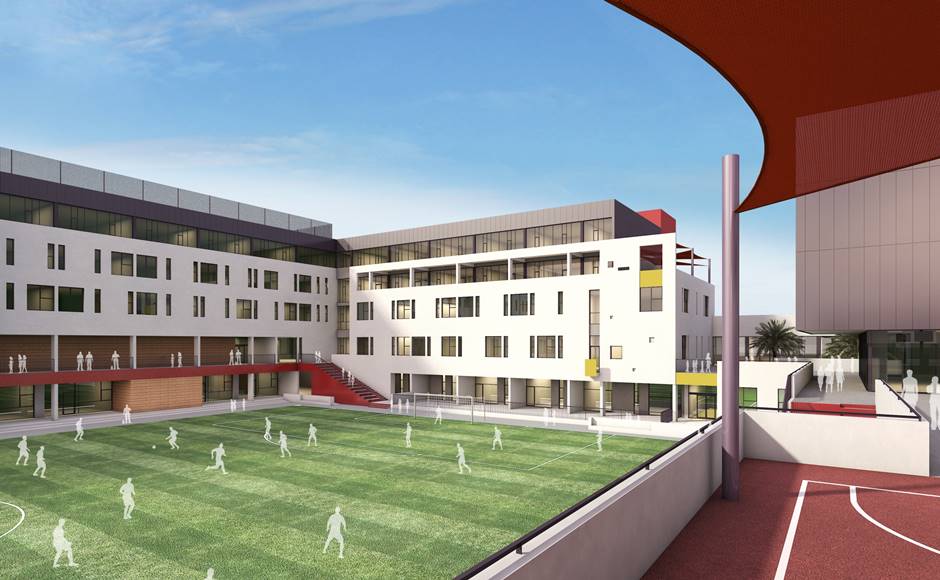 State of the art facilities
Large, well-resourced, IT-enabled Classrooms with the latest furniture enabling individual and group learning and with laptop and tablet connectivity, interactive whiteboards, and access to the internet and our digital library and Virtual Learning Environment (portal for learning)
Dedicated 6th Form Blended Learning Zone to permit group study, and online tutorials, learning and podcasts
9 world-class Science labs with large resource banks for lab work, scientific inquiry and study, and experiments
5 world-class Design Technology Labs – Electronics & Robotics, Food Technology, Resistant Materials, Textiles & Fashion to promote product design and manufacturing skills
4 state-of-the-art ICT Labs
Art Labs to foster creative expression and professional Studio for dance and movement
600 seat Auditorium with professional lighting, recording and sound for the performing arts
Music Labs and multimedia studios
Football Pitch, Athletics Running Track, Semi Olympic sized Swimming Pool and a Learner's Pool, Multiple Tennis, Basketball, Volleyball and Netball Courts and 2 expansive Multipurpose Halls for gymnastics, sport & game activities
3 large well-resourced Library Media Centres for each phase of the school
2 student Cafeterias for Primary Dining & Secondary Dining
Parents Association Office encouraging active parent participation in campus life
Applying for Admissions
Sunmarke School is currently accepting applications for the academic year starting in September 2016 for all year groups from Nursery to Foundation Stage 1 up to Year 13. The school welcomes students from all Nationalities and is open to students with special educational needs. For students with learning difficulties, the school endevours to make reasonable adjustments to ensure that their needs are met and that they are fully integrated into the school community.
To apply for admission to Sunmarke School, please fill out the online Application Form HERE.
You can also contact the Admissions Office that is temporarily located at Regent International School, on telephone +971 4 391 8886, ext. 100, and speak to one of the admissions officer who will be able to help you with further information.