Keep your kids fit and active this summer! Below are the Best Summer Camps in Dubai 2018 that can help prevent summer slump and give your children an edge both physically and mentally.
Diverse Choreography Summer Camp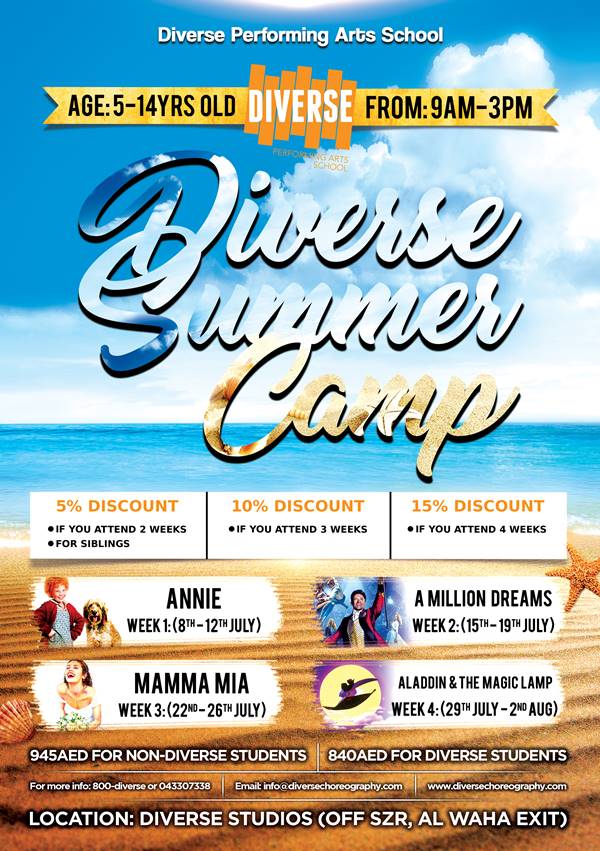 Diverse are back with the coolest summer camps in Dubai! Four whole weeks of fun as our campers sing, dance and act their way through the summer. Parents are invited to join the fun and watch a presentation at the end of each week.
8th – 12th July – Annie – It's a Hard Knock Life for us as we go back in time to Miss Hannigan's Orphanage in New York City and join Annie and her friends in her search to find her real parents. We think 'You're Gonna Like It Here!'
15th – 19th July – A Million Dreams – Join us on our Greatest Showman inspired journey as we celebrate all things individual and different. Come and join us at the Circus!
22nd – 26th July – Mama Mia – Become a 'Dancing Queen' with Sophie, Donna and our favourite Mama Mia characters as we get ready for the wedding of the year!
29th July – 2nd August – Aladdin & The Magic Lamp – Join Aladdin, Abu, Princess Jasmin and the Genie on our magic carpet ride through the city of Agrabah and discover 'A Whole New World'. Will your wishes be granted during this magical week?
Camp Fee: 945 AED
Contact Details: Website | For registration email info@diversechoreography.com | Toll Free: 800 DIVERSE (3483773)
Dubai Holiday Camps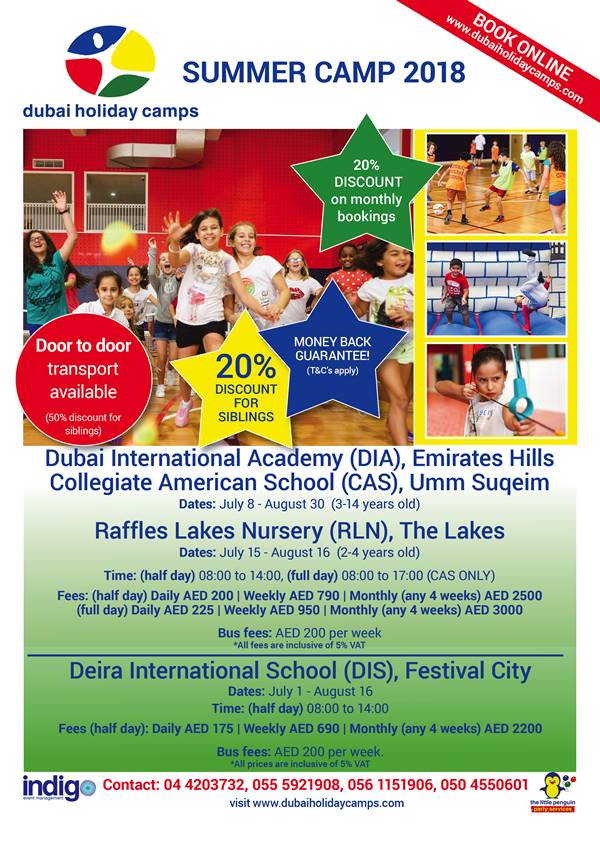 Established since 1998, Dubai Holiday Camps are the leading providers of School holiday activity camps for children between 3 and 14 years old in the United Arab Emirates. Safe, reliable and enjoyable for kids, their summer camps are especially popular. The activities at Dubai Holiday Camps summer camp 2018 range from Football, Swimming,Gymnastics, Archery, Dodgeball, Tennis, Dance, Touch Rugby,Talent shows, Art & Craft, Climbing , Bouncy castles, Excursions, Fitness for Kids and much more.
Children are divided into age appropriate groups for these activities.
3 to 4 years boys and girls: Aquatic fun, gymnastics, mini dodgeball, bouncy castles, arts/craft, dance, sensory play, brain gym to name a few.
Boys 5 years plus: football, dodgeball, basketball, climbing, archery, tennis, aquatic fun, karate, hockey, bouncy castles to name a few.
Girls 5 years plus: gymnastics, dance, aquatic fun, arts/craft, climbing, tennis, dodgeball, cooking, bouncy castles to name a few.
All staff speak English, with additional languages, are trained in first aid and experienced with large groups of children. They also have a qualified nurse on duty at all times as well as a qualified life guard on duty for swimming activities.
Contact Details: Booking Link | Website | Facebook | Twitter | Call: +971 4 420 3732
Summer Camp at Gravity Calisthenics Gym (Al Quoz)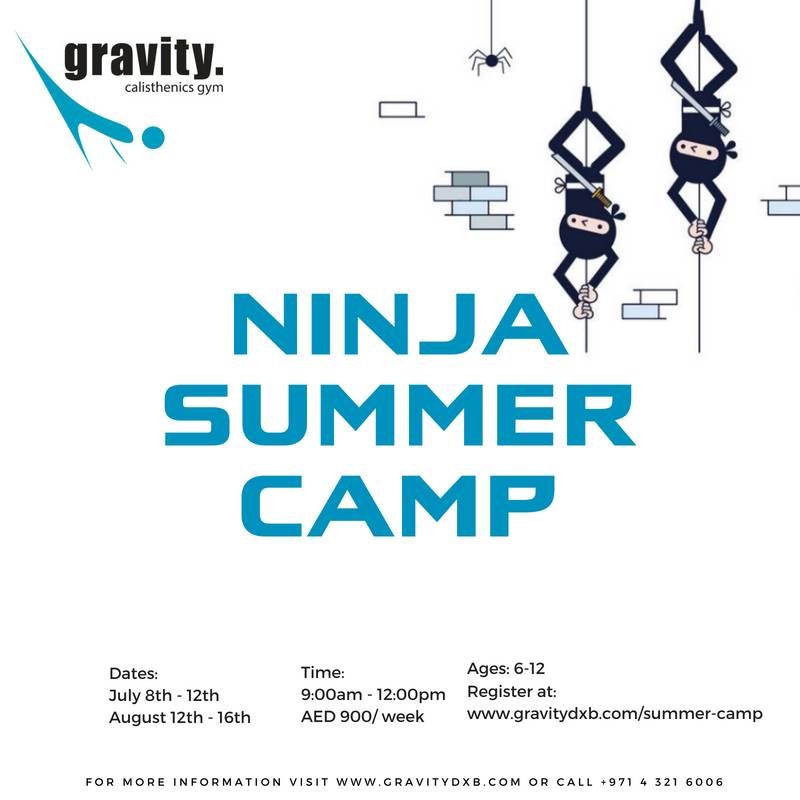 This summer, register your little ones for a week of Parkour, Trampoline, Tumbling & Ninja Training at Gravity Calisthenics Gym, Dubai's first movement academy. The camp aims at building experiences of movement in kids through the disciplines while creating an atmosphere of learning, engagement and good fun! For more information or to book, please visit http://www.gravitydxb.com/summer-camp.
Camp Fees: AED 900/week

Contact Details: Al Quoz 149, 318 RD (next to Al Ahli Driving School) | Location Map – https://goo.gl/maps/2WaYZnzRUWt | Instagram | Facebook | E-mail: info@gravitydxb.com | Phone: +971 4 321 6006
Summer Camp at The Brain Workshop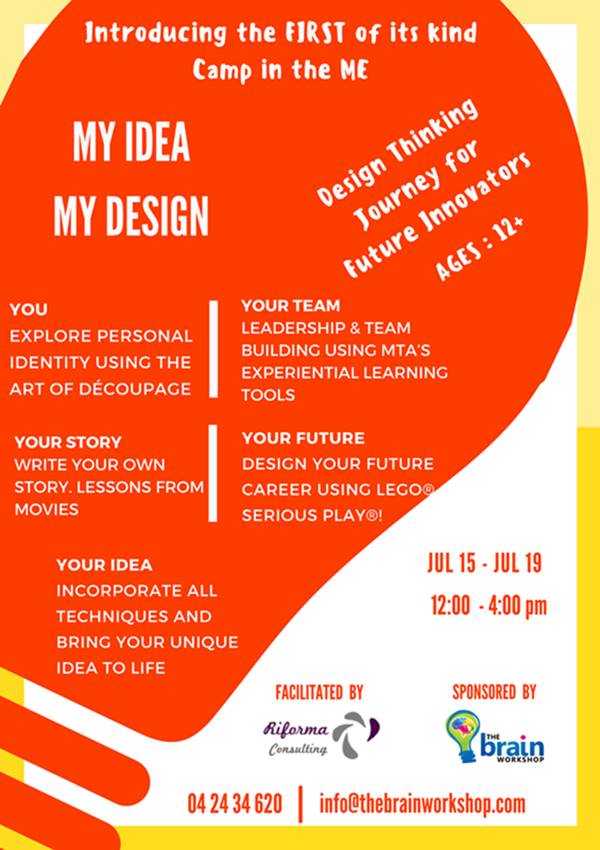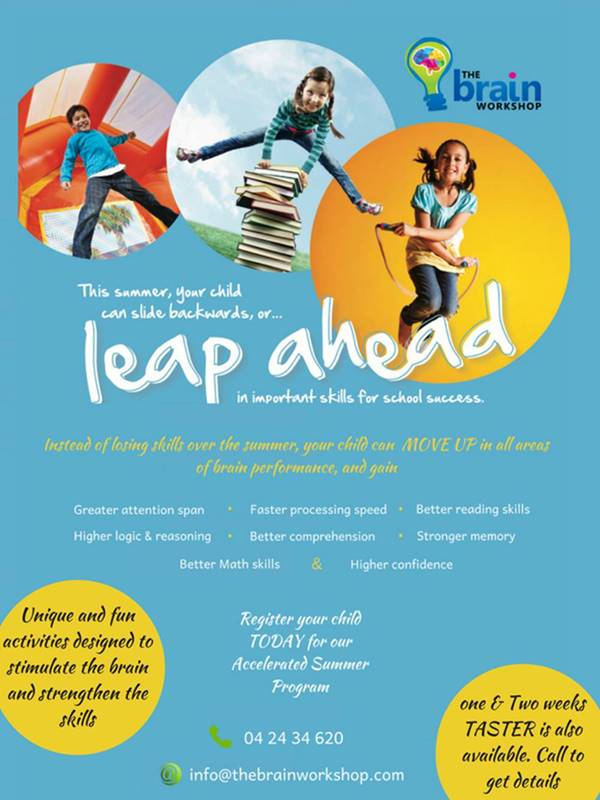 We're sure you've heard about the Summer Brain Drain phenomenon; this year your child has the opportunity to Energize, Vitalize, Activate their Brain AND build new Neural Pathways instead, when they enroll in one of our summer programs options, that use fun, interactive, and challenging exercises. The Accelerated Program dramatically strengthens your child's skills and prepares them for the new school year. The One, or Two Weeks Taster, gives your child a true Brain Workout, and leaves them wanting more. Trust us !
Hold on, that's not all, for your teen and pre-teen, for the Thinkers and the Innovators we've teamed up with Reforma Consulting to bring the Firs of it's kind one week camp "My Idea, My Design" where they get to engage in five modules of hands on Design Thinking segments. Spaces fill out fast so Hurry up, contact us TODAY to book.
Contact Details: Phone: 04 24 34 620 | Email: info@thebrainworkshop.com | Website: http://www.thebrainworkshop.com/.