Mother's Days are celebrated on different days in different parts of the world, mostly during the months March or May. Although we do not need a specific day to honour mothers, Mother's Day comes as a great reminder and a perfect opportunity to tell moms how amazing they are! If you are mommy yourself, you know how wonderful it feels when someone compliments you for being an awesome mother. Isn't it a lovely idea to make moms, new moms and moms-to be, feeling special and pampered?
So why not roll out a red carpet treatment for your mom, your friend, or for yourself? (Don't forget how fabulous a mommy you are). We suggest you check out these special offers for mothers from Ramada Jumeirah Hotel.  From 1st until the 31st May 2015, moms (and moms to be) can enjoy spa treatments and dining options at specially discounted rates at Ramada Jumeirah Hotel, Dubai.
"Moms deserve to be pampered" – 60 minutes massage treatment for moms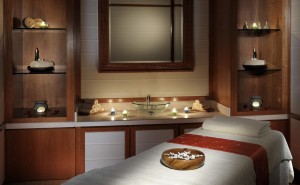 Ramada Jumeirah Hotel is offering a pamper time for moms at their Exhale Gym & Spa with an awesome 60 minute massage treatment for only AED 99. Massage is a great way of de-stressing and carving out some "Me time". If you want to book yourself in or indulge your mommy with some luxurious pampering at Exhale Gym & Spa, please call Ramada Jumeirah Hotel on +971 4 702 7000.
Exhale Gym & Spa is one of the trendiest gyms in Dubai. The spa services incorporate a combination of fitness training and wellness management as well as a range of therapeutic massages to suit all needs. There are separated changing areas for ladies and gents, with each having its own Sauna, Steam room, Jacuzzi, and tranquil rooms offering a selection of therapies and massages. Spa and beauty services are offered every day, from 10 am onwards.
50% dining discount at the Ginger restaurant
The award winning Ginger restaurant, at Ramada Jumeirah Hotel, is passionate about authentic and traditional Asian food that includes Thai, Japanese and Chinese cuisines. The impressive open kitchen provides Live access to the Chefs skills of preparation, be wowed by the flaming woks and tantalizing, inviting aroma. Chefs at the Ginger specialize in contemporary twists on traditional Asian flavors, such as the jam-packed Bento box bursting with flavor. Every dish has been carefully created and cooked in the most traditional way with a modern touch.
This entire month, Ginger restaurant will be honoring mothers by offering a whopping 50% discount on food bill. You can bring your mom to dinner at Ginger and receive 50% discount on food with free bottle of grape to enjoy while dining!  50% discount offer can also be extended to the entire family dining at Ginger. In this case it will be a 50% discount on the total bill.
Making it extra special for moms-to-be
Ramada Jumeirah Hotel has also planned something special to pamper the future mothers. If you are an expectant mother, or know someone who is in the family way, here's a perfect pamper time offer to soothe and relax the pregnant body. Expectant moms can enjoy a relaxing foot and back massage treatment at Exhale Gym & Spa along with a delicious bento lunch at Ginger for AED 149 only!
All of the above offers are valid from 1st to 31st May 2015 and can be availed on weekends too! Please make your reservations in advance by calling on 04 702 7000
You can also find more details about Ramada Jumeirah Hotel on their Website: http://ramadajumeirah.ae/
Ramada Jumeirah Hotel Facebook page