With a tasteful mix of dark tones, henna patterns, soft lighting and stunning views of Burj Khalifa, Mint Leaf of London, located in the heart of DIFC, is a perfect place to enjoy a sophisticated brunch with friends and family on a weekend afternoon.
Mint Leaf of London recently revamped their brunch menu to offer a new range of world-class Indian cuisine to weekend revellers. The brunch details a vast six-course menu along with a beverage package of choice. Food and drinks are served directly to the table in a very elegant and sophisticated style making it a truly indulgent and pleasant dining experience.

We started off our brunch with a couple of chaats, Tandoori Broccoli and South India Sweetcorn cake, a new addition to the menu. Although the chats weren't amongst the best one's we've had, the Tandoori Broccoli was absolutely superlative! Florets of Broccoli marinated with cream cheese and spices were beautifully grilled to perfection to keep them moist yet firm. If you ever doubted that broccoli could make a delicious and brilliant starter, this one at Mint Leaf will change your perception forever. The other starter on the menu, south Indian sweetcorn cheese cakes were equally light and delicious. We did relish the subtle hint of curry leaf and south Indian flavours as we merrily nibbled on the snack.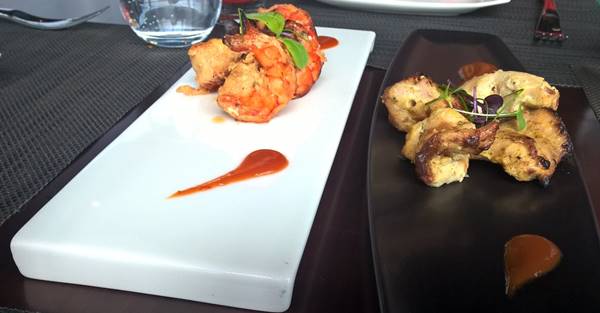 The next course kicked off with mixed meat grills that included Gilafi Seekh Kebab, (a skewered lamb mince kebab), classic chicken tikkas and grilled seafood platters. We loved the Zafrani Malai Tikka, which was lusciously succulent and moist. A special mention also goes to the beautifully balanced Sarson Salmon, perfectly blended with Dijon mustard and wholegrain mustard glaze to yield a robust mustardy flavour yet not overpower the delicate flavour of salmon.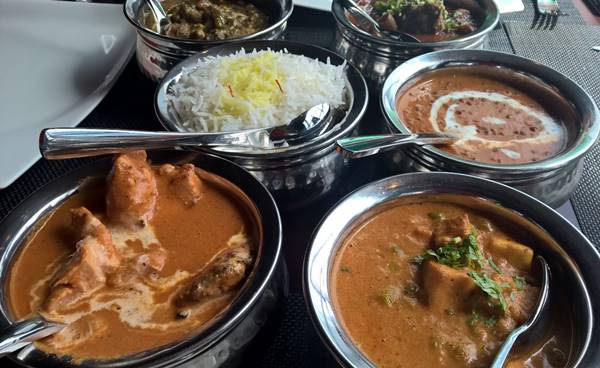 Main course remained largely traditional with everyone's favourite Butter Chicken, Lamb and Mushroom gravy, traditional Dal Makhani (black lentils in a creamy sauce), cottage cheese and mixed vegetables served with saffron rice and bread basket. Despite an extensive menu of rich gravies, the main course felt surprisingly light and easy on stomach.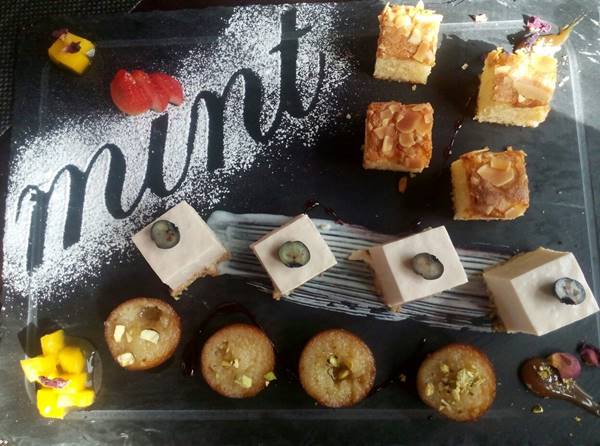 Finally, it was time for the most awaited part of the meal- the dessert! But when the picturesque platter arrived, we just didn't have the heart to eat it and ruin it; It looked so fabulous! Well, we did dig-in and satisfy our taste buds eventually. Although not extravagant, the Indo western dessert platter with soft creamy cheese cake bites and traditional sticky dumplings (Gulab Jamun) did not disappoint. It perfectly satiated the sugar cravings, without making us feel guilty or overindulgent.
Overall, we were wowed by the food and service at Mint Leaf of London. Brilliant service ensured that our glasses were never empty and individual courses moved quickly from kitchen to table. Great food teamed with live music and fabulous views of Burj Khalifa and downtown Dubai makes the Mint Leaf of London Brunch a very special afternoon treat for the entire family. Despite an elaborate six course menu, we did not feel heavy or overstuffed at all.
Brunch Details
Mint Leaf of London serves a six course brunch on Fridays and Saturdays. The brunch is unlimited, so one can feel free to order more of any dish or beverage from the menu.
Offer:  AED 195 Non-alcoholic
AED 320 House Beverages
AED 370 Bubbly
Times: 1pm – 4.30pm
Days:   Friday & Saturday
Location:  15th Floor South Tower, Emirates Financial Towers, DIFC
Contact: +9714 706 0900 / reservations@mintleafdubai.com / mintleaf.ae