Digital revolution has clearly changed the way we work, learn and communicate and that is why, working with computers has become inevitable for most of us; yet we pay little to no attention towards the effects of computer screen on our eyes. According to healthcare experts, prolonged usage of computers can cause a range of symptoms including blurred vision, dryness, irritation, eye strain and headaches, commonly known as CVS – "computer vision syndrome". Some studies estimate that nearly 50-90% of computer users suffer from CVS.
In today's technology driven world, it might be impractical to avoid the usage of computers. Therefore, switching to devices that offer better eye and vision protective technologies would make more practical sense. As a digital media entrepreneur, I spend the bulk of my day sitting in front of a computer. From designing digital content to networking and building business relationships, I use a computer for most of my activities. Given this need, BenQ's latest EW-series eye care monitor – EW2770QZ, seemed like a perfect solution for people like me. The BenQ EW2770QZ Eye Care Monitor is a premium product equipped with a number of sophisticated eye protective features that sets it apart from other monitors currently available in the market.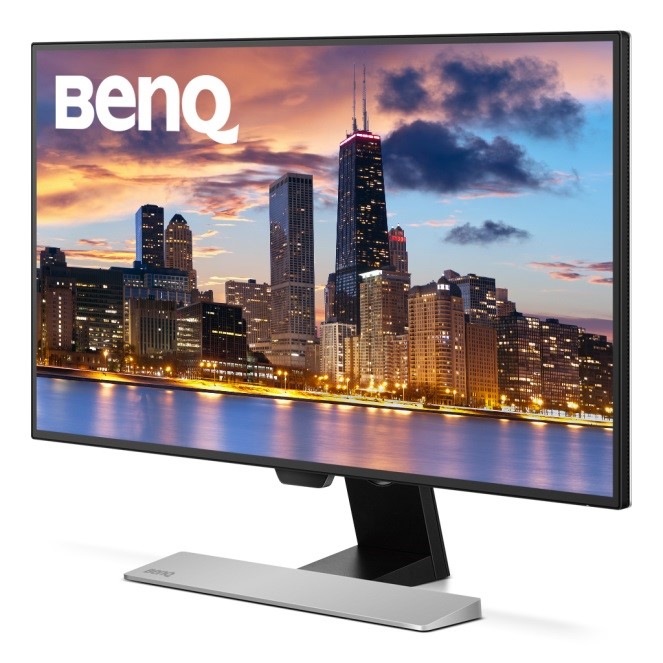 Superior Visual quality
When I switched to BenQ EW2770QZ Eye Care Monitor, I could immediately perceive the difference in visual quality of the contents. With a wide, 27 inches, 16:9 LED display screen, and 2560×1440 resolution, the BenQ EW2770QZ Eye Care Monitor gave me a superior visual sensation when compared to my previous monitor. While the contents looked bigger, more vibrant and sharply defined, the background contrast was wonderfully soothing. Rec.709 and 100% sRGB color space coverage delivers consistent and accurate colors for an impressive color performance.
Brightness Intelligence Plus Technology
Workplace lighting is one of the most significant factors effecting eye health. Surrounding light can produce glare and reflections of nearby objects on the screen, which can be extremely disturbing. Moreover, adjusting work station light levels throughout the day is practically challenging. This is where BenQ's Brightness Intelligence Plus Technology comes to the rescue.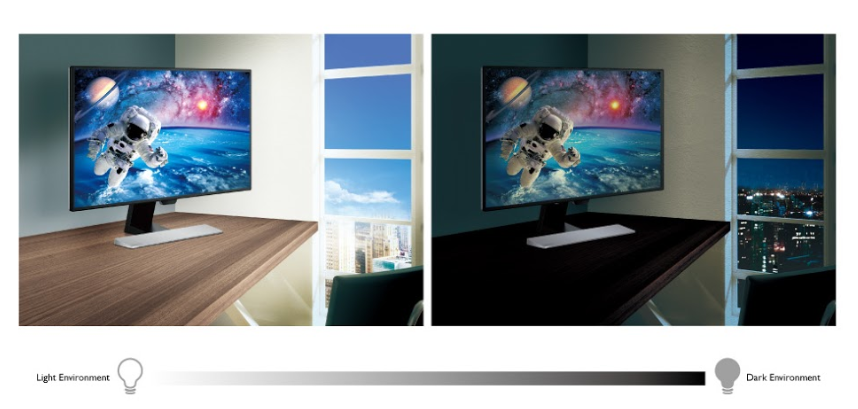 The ambient light sensor of Brightness Intelligence Plus Technology basically detects ambient light levels and the color temperature in your viewing environment and automatically adjusts on-screen brightness and color temperature for your viewing comfort. That means you don't have to keep adjusting the light levels of your room and work station for optimal viewing quality; BenQ's Brightness Intelligence monitor will automatically adjust to the surrounding light. Brightness Intelligence Plus Technology detects the intensity of your content and performs dynamic brightness adjustments to ensure that the brightness of the screen and surrounding environment are perfectly balanced.
Brightness Intelligence Plus Technology does offer great viewing comfort, especially while watching videos and movies in dim light.
Protection from blue light damage and flickering
Research studies suggest that Blue light from computer screens and digital devices can cause digital eyestrain and even degeneration of retina after prolonged exposure. Although Blue light is part of the normal light spectrum, it can penetrate deeper into the eyes and damage retinal cells. It's shorter wavelength also means more glare and flickering, leading to eyestrain and irritation.
Eye care specialists are concerned that both adults and children are constantly exposed to blue light from digital screens. According to a recent study, children's eyes absorb more blue light from digital device screens than adults. These days, children use computers in classroom and at home for most of the academic work (from researching to creating presentations, e-homework and usage of other learning apps). In addition to this, pre-teens and teenagers use devices to play games, browse social media and text friends. Movies, videos and PlayStation games, though not an everyday affair, consume a fair share of screen time too.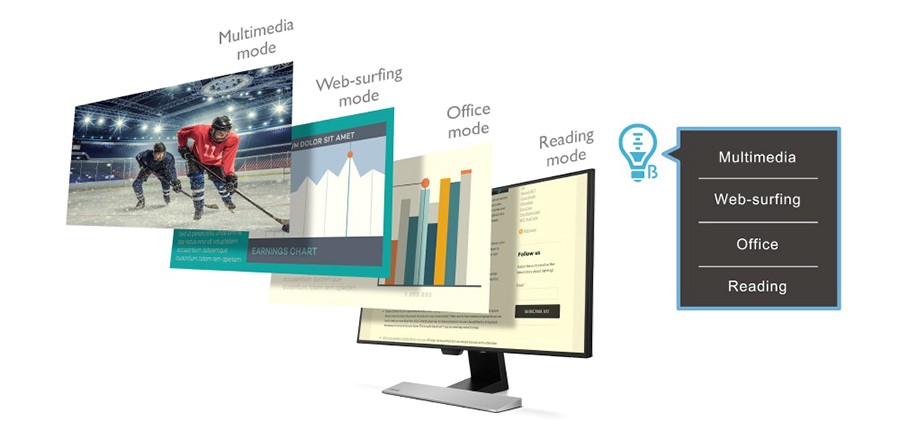 As a mother of two teenage kids, I often find it challenging to limit my children's screen time. Like most households, we engage in constant screen time battles and there's no easy escape from this. However, it is quite re-assuring to me that BenQ's state of the art technologies can help protect our children's eyes from blue light damage and digital eyestrain, which I am truly concerned about. BenQ's Low Blue Light technology is designed to filter out harmful blue light, effectively diminishing eye fatigue and irritation. In addition to this, their Flicker-Free technology protects the eyes from harmful effects of flickering. For me, these are reasons good enough to encourage my kids to use the BenQ Brightness Intelligence eye care monitor for most of their academic and entertainment activities.
The monitor comes with a HDMI cable, 2 HDMI 1.4a ports, a display port, 2W speakers and headphone jacks, so it's really simple to connect to other devices like laptops, iPads and gaming consoles for mixed use.
Ultra-slim bezel monitor with VESA wall mount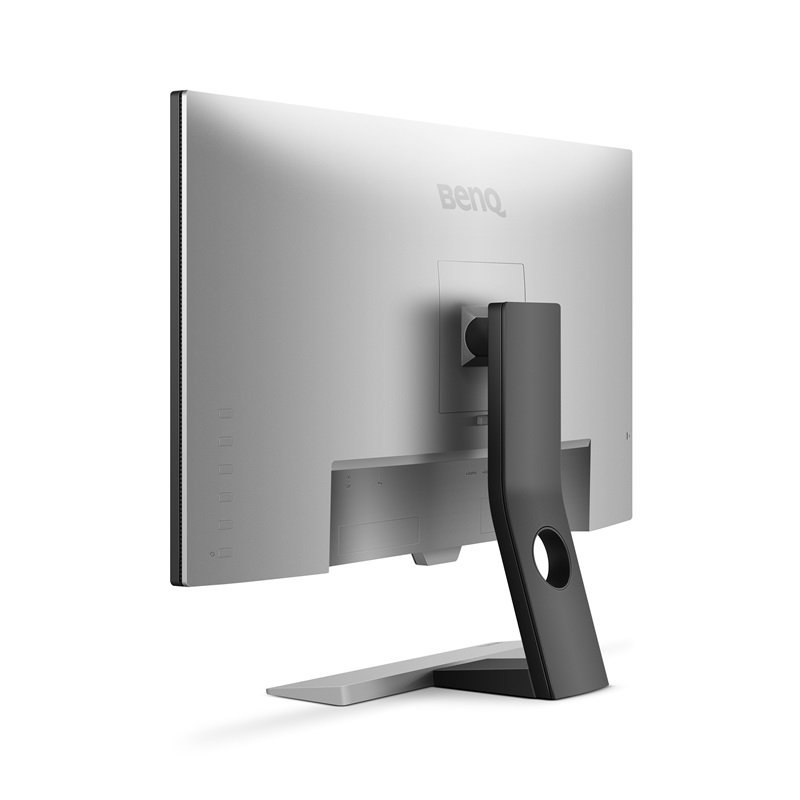 With elegance and functionality perfectly combined, BenQ EW2770QZ ultra-slim bezel monitor beautifully complements any interior space. The base and stand in silver look sleek and slim, yet keeps the monitor sturdy. It's really simple to attach the base to the monitor without the need for any screws or tools to set-up. However, the stand offers very limited flexibility with no option to adjust the height or swivel.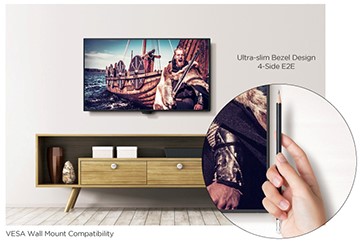 The base hardly occupies any desk space, but if you require more space, you can also easily display it on a wall. EW2770QZ is the first BenQ Video Enjoyment Monitor in the EW series to have a VESA wall mount pattern on the rear of the cabinet. Due to different display options, one can enjoy greater flexibility in entertainment viewing or workstation set-up.
My final thoughts
With a retail price of AED 799 in the UAE, BenQ EW2770QZ eye care monitor may appear a little heavy on your pocket, but if you happen to use computers for considerable amounts of time, this buy is well worth the price. You'll find this product incredibly impressive if you appreciate the value of eye protecting technologies like Brightness Intelligence plus, flicker-free operation and low blue light modes. Whether you're using a digital device for professional work, gaming, e-learning, social media or internet browsing, your eyes are vulnerable to strain in all cases. If protecting your eyes and vision is top priority for you, there is currently no better option than BenQ EW2770QZ eye care monitor that offers wider display with superb visual quality and unique eye protection technologies, all brilliantly integrated into one smart and slick design.
BenQ EW2770QZ Eye Care Monitor Specs
• 27 inches, 16:9, 2560×1440‎
• IPS Panel
• 4-side Ultra-slim Bezel
• 100% sRGB‎/Rec.709
• Viewing Angle 178 ° /178°
• 350 nits
• 5ms GTG
• Brightness Intelligence Plus Technology
• Low Blue Light Technology
• Flicker-free
• DP /HDMI 1.4 *2/ Headphone jack
• Speakers (2W*2)
Take a look at how BenQ EW2770QZ Eye Care Monitor can reduce eye strain:
Reviewed by:
Dr. Arpitha Reddy
Founder, Dubaimoms.com