Swiss International Scientific School, Dubai's first multilingual school will be holding special parent information sessions for French and German speaking families in Dubai. SISD, which will be opening in September 2015, at Dubai Healthcare City, plans to offer the full continuum of the International Baccalaureate (IB) with a strong focus on languages and cultural diversity. Since the school aims to help students become multilingual with the option of bilingual education in French or German, or studying other languages within the English section, the team at SISD have taken an initiative to help parents have a better understanding of the bilingual structure of the curriculum. Those interested in German/English or French/English streams can attend separate information sessions to find out more about how a bilingual class works.
German Info Session: On 23 June 2015, from 09:30 am – 11:00 am
To register for this session, please visit: SISD German Session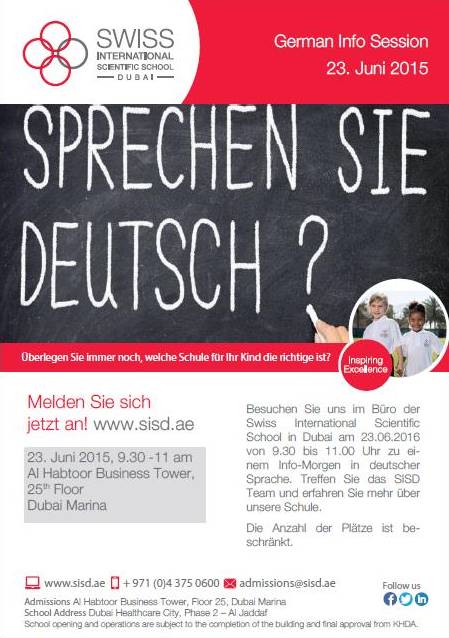 French Info Session: On 1 July 2015, from 9.30 am to 11.00 am.
To register for this session, please visit: SISD French Session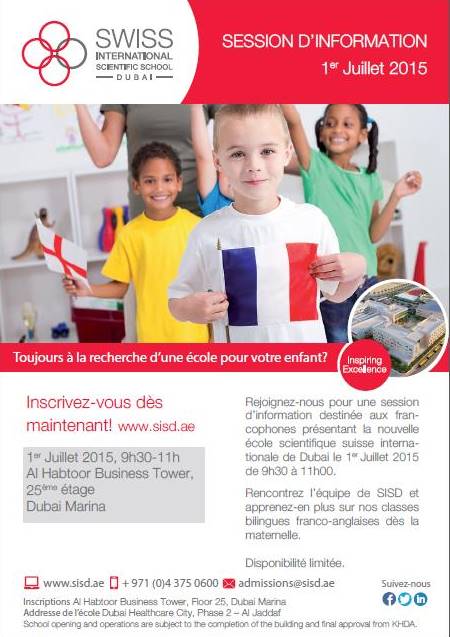 Location for the above events:
Al Habtoor Business Tower, 25th Floor, Dubai Marina
To know more about Swiss International Scientific School in Dubai, click here.