Asparagus is one of the world's healthiest vegetables. The juicy succulent spears of Asparagus are packed with powerful nutrients. The green stalks are not only rich in fibre and protein, but also loaded with Vitamins like Folate, B12, Vitamins A, C, E and K. Asparagus is also a rich detoxifying vegetable that helps us fight against inflammations and some types of cancer. Alongside its anti-inflammatory properties, Asparagus is rich in antioxidants which protects our skin and prevents premature ageing. Essential minerals like Iron, Magnesium and Potassium found in Asparagus are beneficial to individuals suffering from blood disorders like Anaemia and blood pressure.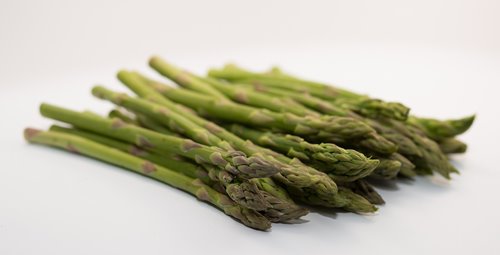 With so many health benefits to its credit, Asparagus is certainly a great vegetable to eat. Asparagus spears can be enjoyed raw, steamed, sautéed, stir-fried or made into soup. The nourishing low fat Asparagus soup is loaded with all the goodness of Asparagus and works like a complete meal. It takes about 30-40 min to make this soup, but totally worth your time.
For best results, always use Asparagus that's bought fresh from the market. Asparagus stalks tend to loose sweetness and flavor when stored for long. Choose fresh, green, smooth talks with firm tips. To prepare, wash them in cool running water with gentle scrub. Thin stalks of Asparagus can be cooked directly, but the thicker stalks may need peeling before being used in the recipe.
Ingredients
21/2 cups Asparagus, chopped
½ cup potatoes, chopped
½ cup onions, chopped
1 clove garlic, chopped
1 tsp low fat butter
1 cup low fat milk
Salt and pepper to taste
Bread croutons for garnish (optional)
Heat the butter in a saucepan and saute onions, garlic and potatoes for 3-4 minutes. Add 2 cups of water. Cover and simmer till the potatoes are almost done. Then add the chopped Asparagus and cook for another 4-5 minutes or until Asparagus is done. Once the Asparagus is cooked, turn off the flame and allow the mixture to cool completely. Now transfer the mixture into a blender and blend until smooth. Put the puree back into the saucepan, season with salt and pepper, add the low fat milk and bring to a boil.
Soup can be served hot, garnished with toasted bread croutons and finely chopped parsley.