Celebrate Mothers Day with Dubaimoms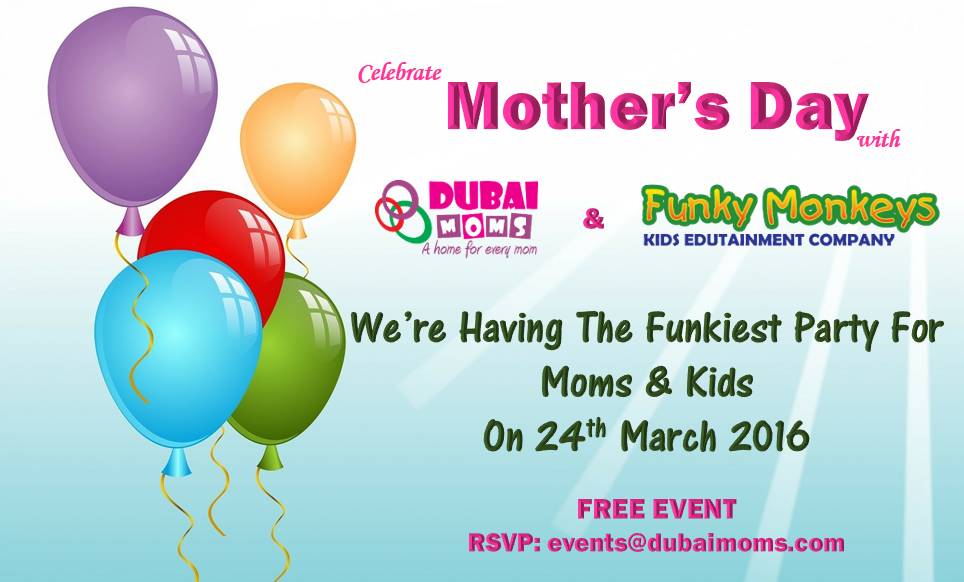 In honour of Mother's Day this month, we've partnered with Funky Monkeys Playland, Dubai, to put up a funky party for you and your children. We wanted to inject more love and laughter into our Mother's Day celebrations, so came up with this fun idea to celebrate the very joy and essence of motherhood. Whether you're a busy working mother or stay at home mom, this is indeed a wonderful way for you to spend quality time with your child and treasure beautiful memories of fun times together.
So mummies, save the spa for another time and come join us with your children for a great evening of fun and laughter together. From FREE soft play to dancing activities, mini makeovers, games and delicious snacks, we promise you an evening that's going to be jam-packed with an array of exciting activities for you and your children.
Event: Mothers Day with Dubaimoms
When: Thursday, 24th March 2016, 6-8 pm
Where: Funky Monkeys Playland, Al Wasl Centre, Sheikh Zayed Road, Dubai
Entry: FREE for mommies and their children who pre-register for the event
RSVP: To receive your FREE INVITE, PLEASE RSVP TO events@dubaimoms.com with the following details:
Your Full name
Contact number
Names and ages of your children
Since we have limited spaces, if the number of registrations we receive exceeds the limit, we will pick our invitees by a lucky draw. All confirmed invitees will receive an invitation from our end on 23rd March 2016, which they will have to carry in order to attend this free and fun event.
What's Included in our FREE EVENT:
Soft Play Area
Dancing Activities
Games
Mini Make over and Fashion Show for girls
Style your kids in their funkiest costumes, we're going to have a mini fashion show and also a Best Dress Award for them! You can watch with pride as your little fashionistas take over the ramp or even better, hold their hands and walk alongside.
Laser Gun and Mini Arcade for boys
Arts & Crafts
Popcorn for kids
Kids Meal for children (FREE for one child. If you have more than one child, AED 20 will be charged for every additional meal)
Coffee and Sandwiches for Moms
The above activities, food and beverages are offered free of cost for all pre-registered invitees carrying a FREE INVITE sent by email.
Add-ons:
Face Painting – AED 10
Foil Balloons – AED 10
Arabic Henna – AED 10 (kids); AED 20 (Adults)
Glitter Painting – AED 10
Ceramics painting- AED 10
FOOD:
Nachos – AED 15
Candy Floss – AED 10
Adults Dinner Meal – AED 25
So get ready to spend an exciting evening with us at Funky Monkeys Playland, Dubai, on Thursday, 24th March 2016. RSVP now to events@dubaimoms.com. To know more about Funky Monkeys Playland, please visit their website www.funkymonkeysuae.com.