If your child is a massive fan of Roald Dahl's books, then this stage show is going to be an absolute treat! Art for All is bringing the Roald Dahl classic James and the Giant Peach, to the UAE in May 2016. This classic children's tale will be brought to life on stage by award-winning theatre company "Sell A Door", and has been adapted by renowned theatre director, David Woods. The shows can be watched live in Dubai (DUCTAC- 12th and 13th May 2016) and Abu Dhabi (Abu Dhabi Theatre – 7th May 2016).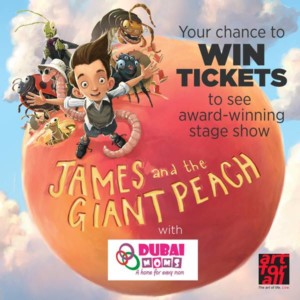 Dubaimoms.com is giving you an opportunity to watch James and the Giant Peach live in Dubai or Abu Dhabi! 5 lucky winners will get to win a pair of tickets each for either one of the shows (7th May in Abu Dhabi and 12th May in Dubai)!!
To be in for a chance to get your FREE TICKETS just email the following details to contest@dubaimoms.com (Click to email):
a. Full Name,
b. Contact Number, and
c. Venue where you'd like to watch the show – Abu Dhabi Theatre, Abu Dhabi or DUCTAC, Dubai.
Remember we've got tickets for both Dubai and Abu Dhabi, so please don't forget to mention the venue of your choice – Abu Dhabi Theatre, Abu Dhabi or DUCTAC, Dubai.
The competition is open to all UAE residents. Last date for sending in your ENTRY is 7th May 2016.
——————————————————————————————————————————————
The contest is now closed. We are no longer accepting entries after the last date.
Our 5 lucky winners chosen from a random draw on 8th May 2016 are as follows:
From Dubai:
Bhavi Mistry
Megan Eastman
Rouba Abouzeid 
From Abu Dhabi:
Sudha Rasal
Rehab Kiani
Congratulations to the lucky winners. You will be receiving an email from our team.
About James and the Giant Peach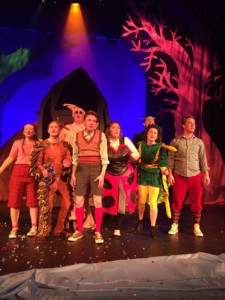 Starring Ewan Goddard as James, Max Gallagher as Spike and Grace Bishop as Sponge, and with a musical score by Harry Sever this captivating show, which stays true to Dahl's legendary story, is a must-see for the entire family.
The hero of the story is James; a little orphan boy who, after his parents are killed in a tragic rhinoceros accident, is sent to live near the White Cliffs of Dover in England, with his evil aunts Spiker and Sponge. Resigned to a life of misery, James' fortunes change when he meets an old man who gives him a bag containing the ingredients for a potion. After stumbling accidentally in the garden, his magic potion spills onto the soil underneath the old peach tree, and the very next day a giant peach begins to grow.
Initially Spiker and Sponge decide to capitalize on the fantastical fruit, forcing James to sell tickets to spectators, but then one night he hears someone calling from inside the peach and it's time for the real fun to begin. From there it's a cross-world adventure that takes James all the way to Central Park, New York, with hilarious results.
*Suitable for children aged 3+. Running time: 1:45 (including a 15-minute intermission)
Details
Public Rate: Dhs140 to Dhs195
Special offers available for schools
Tickets are available from Ductac, Virgin Tickets and Ticketline.
Call 050 880 5074 or visit www.artforall.ae for more information.