Keeping children occupied during holidays without turning to the TV or gadgets is both challenging and daunting. In order to keep them busy, most of us consider holiday camps or sometimes plan for short outdoor trips and fun things to do in town. There are plenty of hotspots in Dubai for children to have fun, but if you're wanting to do something different this holiday season, we think Sharjah would be a wonderful place to explore with your kids.
Sharjah is just 30 min away from Dubai and it's relatively easy to get there. The city offers a glimpse of modern and traditional ways of life. With rich Emirati cultural heritage, interesting flora & fauna and modern day attractions designed for kids, you'll be surprised by the diversity of attractions offered by Sharjah. If you're in a mood to explore this fascinating city, we rounded up some kid friendly things to do in Sharjah.
Sharjah Desert Park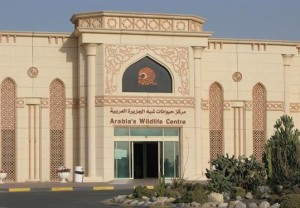 Sharjah Desert Park contains a Natural History museum, an Arabian Wildlife centre, a Children's farm and a breeding centre for endangered animals. The breeding centre unfortunately is not open to public but visitors are free to explore the other three areas of the desert park. The Arabian Wildlife centre is an indoor zoological centre which gives you an opportunity to look at several indigenous species of wildlife that are native to the Arabian desert. From reptiles and birds to big mammals, kids get to see a large variety of wildlife here. It's amazing to see how many species thrive and survive even in the desert. The Natural History Museum on the other hand is a lovely museum which gives an insight into the regions desert and marine ecosystem. You can go back in time to encounter dinosaurs, erupting volcanoes, pre-historic fossils, meteorites and learn about the development of this regions flora and fauna over time.
Children's farm is a small area within the Sharjah Desert Park. There isn't much to see here, but if your children like to feed animals, they get to feed some local goats and cattle in the farm.
Location: The Sharjah Desert Park is approximately 25 km east of the city of Sharjah on the Al Dhaid highway (E88, Sharjah Airport Road) at interchange 9.
Timings: Sun, Mon, Wed and Thurs 09:00 – 18:00
Tuesday CLOSED
Friday 14:00 – 18:00
Saturday 11:00 – 18:00
Last entry 17:30, may be CLOSED on Public Holidays, hence you may have to call to confirm.
Al Montazah Park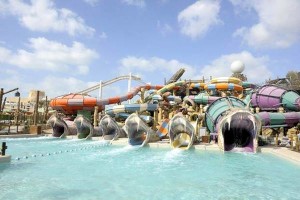 Al Montazah Park, previously a large public park called Al Jazeera Park, is Sharjah's latest destination for family fun and outdoor adventure. Al Montazah Park is an amusement park spreading over 126,000 square metres with rides and recreational activities for all age groups. It boasts of a water park, a theme park with thrill rides and an adventure park with 3 different challenging courses to conquer.
Location: at Khalidiyah Bridge, Al Arouba Street, Flag Island, Sharjah
Water Park Timings:
Saturday – Wednesday: 10:00 a.m. – 8:00 p.m.
Thursday – Friday: 10:00 a.m. – 10:00 p.m.
Entrance Cost:
Height 110 cm and above: AED 120
Height Under 110 cm: AED 75
Children under 80cm height: FREE
Amusement Park Timings:
Sunday – Wednesday: 3:00 p.m. – 11:00 p.m.
Thursday – Friday: 3:00 p.m. – 12:00 midnight
Saturday: 10:00 a.m. – 11:00 p.m.
Entrance Cost:
All Guests: AED 10, and AED 15-20 for each ride.
Children under 80cm height: FREE
Adventure Park
AED 150 for adults and AED 80 for child.
For more information and location map, visit www.almontazah.ae.
Sharjah Discovery Centre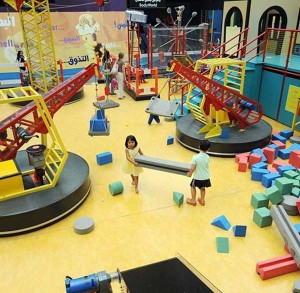 Sharjah Discovery Centre is an entertainment centre designed for children aged 3 to 12 years, providing them with the opportunity to learn, discover, understand the role of science and technology in their daily life and explore the world around them in a fun-filled and relaxing atmosphere. The centre is divided into seven major areas featuring a variety of entertainment ideas including The Drive Town, Airport, Build Town, Petroleum Refinery, TV Studio, Climbing Walls, Water World, Sound Zone and an area dedicated to teaching the human anatomy. Children can move through the exhibits at their own pace and in the order they choose and can freely explore, learn and play in their own way.
Location: On Sharjah airport road between interchanges 4 and 5, opposite Sharjah Classic Cars Museum and Sharjah Airport.
Timings: Saturday to Thursday: 8:00 am – 8:00 pm and Friday: 4:00 pm – 8:00 pm
Entry Fees
Children (under 2 years): Free
Children (2-12 years): 5 AED
Adults (13+ years): 10 AED
Telephone: +971(6)-558 6577
For more information, see http://www.sharjahmuseums.ae/Our-Museums/Sharjah-Discovery-Centre.aspx.
Sharjah Aquarium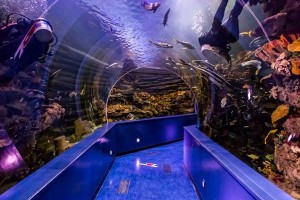 With more than 150 species, including the beautiful clownfish, delicate seahorses, moray eels, sea rays and reef sharks, Sharjah Aquarium is a great place to visit with your children. Here you can see marine life of all sizes found in the rocky shores, coral reefs, lagoons and mangroves of the region. It consists of two floors equipped with 20 aquariums, filled with 1.8 million litres of water.
Location: Sharjah Aquarium is located in Al Khan Old area
Timings: Saturday to Thursday: 8:00 am – 8:00 pm, Friday: 4:00 pm – 10:00 pm, Sunday: Closed
Entry Fees:
Children (under 2 years): Free
Children (2-12 years): 15 AED
Adults (13+ years): 25 AED
Family (2 Adults + 3 Children): 70 AED
Telephone: +971(6)-528 5288
Al Qasba
Al Qasba is a lovely waterfront development offering several entertainment and dining options for families. Al Qasba is home to "Eye of the Emirates", a 60-metre-high air conditioned Ferris Wheel that offers spectacular views of the Sharjah city and the majestic coastline of the Arabian Sea. There is also a kid's fun zone, musical fountain and go kart rental for kids who like to ride around the walkways of Al Qasba. Plenty of cafes, fast food outlets, dining options and year round events make this one of the best leisure and entertainment destinations in Sharjah for an evening of outdoor fun with family.
Location: Al Qasba is located in the heart of Sharjah, very close to the Corniche street. With the Eye of the Emirates Ferris wheel sitting in Al Qasba, it won't be difficult to spot this place!
Sharjah Science Museum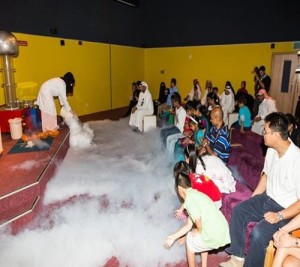 Sharjah Science Museum is one of the oldest science and technology centres in the UAE. The science museum is interactive and extremely child-friendly with several hands on activities and exhibitions. Children can take part in various science demonstrations exploring the science behind illusions, aerodynamics, space science and more. The science museum also organizes regular workshops and activities for children, especially during school holidays.
Location: The Sharjah Science Museum is located next to Sharjah Archaeology Museum and Sharjah Media Corporation in Al-Abar area.
Timings: Saturday to Tuesday: 9 AM to 2 PM, Wednesday & Friday, 3:30 PM to 8:30 PM
Entrance Cost:
Children (under 2 years): Free
Children (2-12 years): 5 AED
Adults (13+ years): 10 AED
Other Museums in Sharjah: Sharjah has always been known as the cultural hub of the UAE. If your children enjoy historical and cultural tours, then Sharjah has the best museums for them. There are more than 10 art and historical museums in the city, each offering a unique perspective and journey into the past. For information about the various museums in Sharjah, please visit www.sharjahmuseums.ae.
Butterfly House and Al Noor Island
Al Noor Island is one of the latest recreation developments in Sharjah. Even though centrally located in the heart of the city, Al Noor Island presents a unique opportunity to enjoy nature, art and literature in a quite and serene setting. The highlight at Al Noor is of course The Butterfly House which houses around 500 exotic butterflies brought from East Asian countries including the African Monarch, the Autumn Leaf, and the Rose Butterfly. The structure of the building itself is an architectural beauty, inspired by it's little inhabitants. At the beautiful literature pavilion, one can just sit back, relax and enjoy reading a book or simply soak-in the serenity of the surroundings. Lovely walkways across the Island are dotted with light installations, trees, miniature gardens, sculptures and pieces of art. The island also hosts a spacious children's playground with slides, swings and grass, a pontoon and boats docking area that will allow the transportation of further visitors to and from Al Majaz Waterfront, Al Qasba and The Heart of Sharjah. For more about Al Noor Island, see www.alnoorisland.ae
Timings: Al Noor Island's opening hours are from 9:00 a.m. to 11:00 p.m. on weekdays and 9:00 a.m. to 12:00 a.m. on weekends. Butterfly House is open daily from 9:00 a.m. to 6:00 p.m.
Adventureland
Adventureland is an indoor play zone located within the Sahara Center Mall in Al Nahda area, very close to the Dubai-Sharjah border. Attractions include kiddie rides, roller coasters, thrill rides, go karts and more than 100 video games. All game machines and rides are equipped by an electronic game card called the ADVENTURECARD. You would need to load the card with ride & game credits to enjoy the facilities in Adventureland. Ride prices range from 15 AED to 30 AED
For more information – http://www.adventureland-sharjah.com.