A lush green tropical forest in the heart of Dubai may sound unreal, but Meraas, a Dubai-based holding company has made it possible with the opening of The Green Planet, the region's much awaited and only standalone indoor tropical forest featuring over 3,000 stunning plants and animals. Located in Citywalk, Dubai, the Green Planet is a bio-dome inviting visitors to explore our planet's fascinating flora and fauna through an immersive expedition into the tropics. Designed as an enclosed ecosystem, The Green Planet recreates the enchanting world of a tropical forest with over 3,000 plants and animals and the world's largest indoor man-made and life-sustaining tree.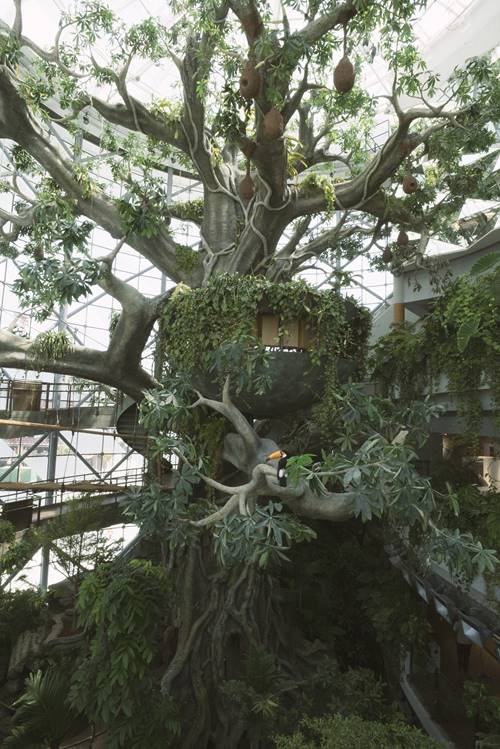 The striking variety of species housed at The Green Planet recreates a lush tropical forest for visitors to immerse themselves in the intimate and unique sensory experience. The facility also mimics the habitat to the point of regulating the temperature and humidity levels of the venue so that visitors can not only see what life is like in such an ecosystem, but can also have a vivid first-hand experience.
Upon entering the origami style glass building, visitors are greeted at the 'Flooded Forest' for a first look of the extraordinary forest floor, complete with a giant aquarium filled with species such as arapaima, arowana and graceful stingrays. Visitors are then guided to the top of the bio-dome where they are presented with a magical panoramic view of the largest indoor, man-made and life-sustaining tree in the world. As visitors slowly descend through the biome, via a winding path alongside its periphery, they will have unique encounters with exotic and tropical animals. From majestic South American toucans and crocodile lizards to pre-hensile tailed porcupines.
Commenting on the opening, Jean-Marc Bled, General Manager, Leisure & Entertainment at Meraas said, "The Green Planet was created with an aim to transport family and friends into the very heart of a tropical forest and give them a striking glimpse of the inner workings of such an ecosystem. By creating such a unique and immersive experience, we hope to showcase science in action and instill a sense of appreciation amongst visitors so that we can understand our eco system better in order to preserve it."
The Green Planet is set to inspire people of all ages and nationalities to learn about and care more for every single plant and animal that inhabits the earth. There will be several educational programmes on offer across various topics and three age groups (3 – 6 years, 7 – 11 years, and 12 – 14 years), that are inspired by the learning objectives of the Ministry of Education. The highly engaging programmes have been introduced to instill responsibility and a collective awareness of the environment among students.
The Green Planet will be open from 10am daily.
For more information, please visit www.thegreenplanetdubai.com.