Global Village in Dubai is launching its 'Kids Fest' festival with a brand new program of activities and a series of specially created activations, games and entertainment for the young guests from the 5th to the 25th of February.
Popular Kids cartoon characters and shows – Angry Birds, Chota Bheem, Shaabiyat Al Cartoon
Exclusively in the UAE, Global Village Kids Fest will be hosting the characters of 'Angry Birds' during the 'Kids Fest', giving children a chance to meet 'Red' and his friends 'Bomb' and 'Chuck' at the Roman Amphitheatre. Children will be encouraged to take photos with them in this unique setting throughout the duration of Kids Fest. For children who are fans of the popular Indian cartoon show Chota Bheem,  Global Village is bringing the characters of the show exclusively to the region. Visiting from the fantasy kingdom of Dholakpur, Chhota-Bheem and his best friend Chutki will be visiting Global Village and putting on a very special show for its guests on the Main Cultural Stage. Families can also enjoy Emirati comic cartoon show "Shaabiyat Al Cartoon'. Some of the funniest characters of the show will participate in this performance along with Globo on the Main Cultural Stage.
Dance workshops and shows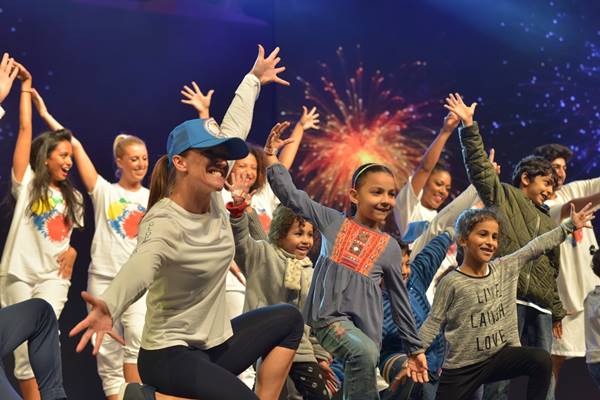 To amplify the fun and excitement of the 'Kids Fest', Global Village is offering an exciting and interactive experience with the Global Show Academy which will offer children several dance workshops every day at the Roman Amphitheatre, where many selected children will be invited to join performers from the entertainment team of Global Village for a finale performance on the Main Cultural Stage. Children will also get to witness Globo and his friends in action as they perform every day through the 'Kids Fest' on the Main Cultural Stage. The little guests will find themselves being included in an interactive engagement as Globo and his friends try and find solutions through the help of the kids in the audience.
"Jobs and Sabz" is a dance show that incorporates different dance styles into one show with dances varying from Bollywood to street dance. Enjoy the shows of Jobs and Sabz throughout Kids Fest on the Main Cultural Stage.
A 'Kids Fest Exclusive edition' of City Jam will be performed throughout the days of 'Kids Fest'. City Jam is one of the most popular performances at Global Village.
The hip-hop show represents five of the most famous cities around the world including New York, Tokyo, London, Mumbai and Dubai which is performed by members of Global Village's entertainment team on the Main Cultural Stage.
Globo Bouncy Castle
Awaiting children at 'Kids Fest' for more fun is Globo bouncy castle. Making things more exciting, obstacles which children have to surpass before reaching the finish line, have been placed inside the castle as a fun activity which allows children to channelize their energy in a thrilling game.
Dancing Fountain Show, parade and fireworks
The dancing fountain show takes place every day at Global Village, where it features international melodies from around the world. The Global Village fireworks show will also continue to take place during the 'Kids Fest' on Thursdays and Fridays at 9pm. Additionally, the 'Parade of The World', which is performed by more than 300 international dances, will take place every Friday at Global Village. Kids Fest will also have face painters and balloon modellers throughout the festival to draw colourful smiles of the little ones.
Timings & Ticket Price
Global Village operates 7 days a week, and opens its gates to visitors From Saturday to Wednesday from 4:00pm-12:00am, and opens until 1:00am on Thursday, Friday, and public holidays. Monday will always be a family day, unless it is a public holiday.
Global Village general admission tickets are available for sale at all Global Village gates starting 3:30pm every day until half an hour prior to park closure. All activities of Kids Fest are including in the entry ticket to Global Village which is AED 15 per person. Kids under 3 years of age enter free of charge.