Join the festivities at Inspire Children's Nursery this December.
FESTIVE FAMILY FAYRE – DEC 5
There is plenty of action to keep your whole family entertained at Inspire Children's Nursery's Festive Family Fayre!
Enjoy a wonderful afternoon of festive cheer with pop-ups, crafts stalls, entertainment, activities like cookie-making and edible tree decoration, free family portraits and meet a very special visitor at the Inspire grotto!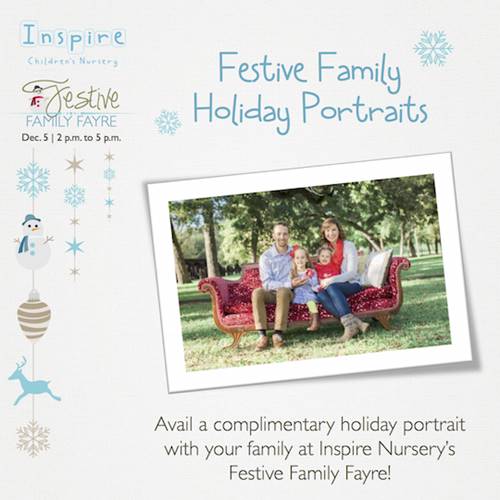 Date: December 5
Timings: 2 p.m. – 5 p.m.
Prices: Free Entry
Please click on the event Page: on Facebook to learn more
GINGERBREAD WINTER CAMP • DEC 18 – 22
Catch me if you can! A delicious week of festive fun, little ones are immersed in this beloved children's story at Inspire's joyful Winter Camp this December. Your little ones can enjoy a week full of fun activities including:
Crafts
Gingerbread Man Decorating
Cooking
Story telling
Puppet-making
Sensory Science
Gingerbread House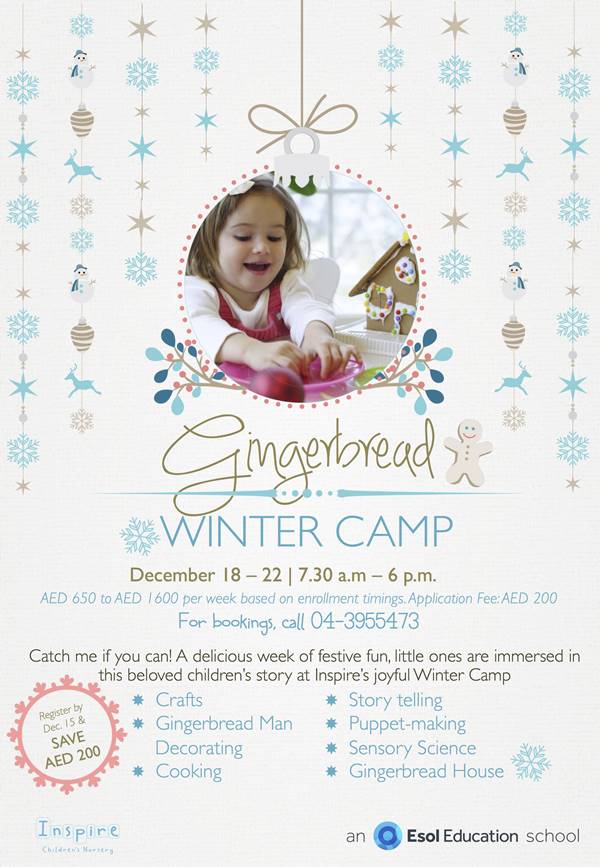 Camp Details:
Dates: December 18 – 22, 2016
Timings: 7.30 a.m. to 6 p.m. Flexible enrollment with multiple sessions to choose from.
Prices: AED 650 to AED 1600 per week based on enrollment timings
Application Fee: AED 200*
Early bird registration: Register before December 15 and save AED 200 with an application fee waiver!
Register for Inspire Seasonal Camp.
Inspire Children's Nursery offers special enrollments to help mums this festive season.