With Dubai Food Festival 2017 going on from 23rd February to 11th March, we can surely look forward to ultimate food weekends at Etisalat Beach Canteen and other places in Dubai. The festival brings in a mega celebration of food, fun and culinary-themed entertainment activities designed to engage all age groups and ethnicity. 23rd-25th Feb will be the first weekend into the festival and if you're in for some fun, culinary learning and gastronomic indulgence, here are the places you should be checking out this weekend.
Etisalat Beach Canteen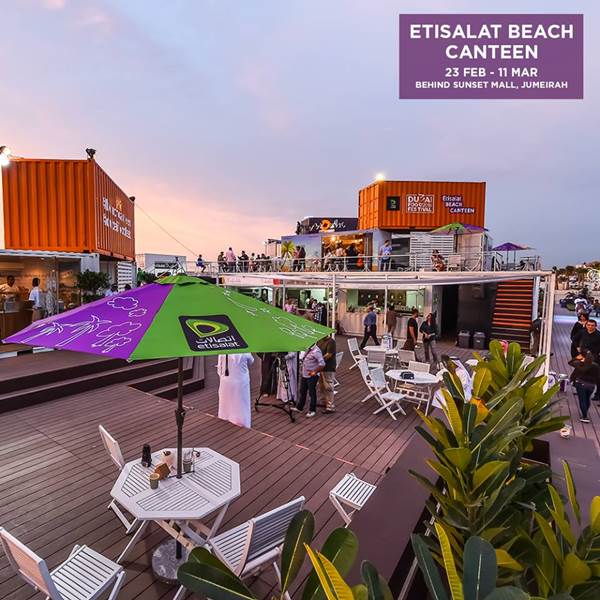 Everyone's favourite Etisalat Beach Canteen is back and it's unarguably one of the best places to be on a weekend! We all love the location, food and family-friendly activities that take place at the Etisalat Beach Canteen every year.
Watch the beach behind Sunset Mall transform into a dining and entertainment hot-spot with a line-up that includes celebrity chefs, home-grown restaurant concepts and fantastic family-friendly activities. In addition to delicious food, expect amazing experiences including entertainment ranging from fitness classes, beach football and open mic nights to farmers' markets, children's play areas, circus acts, workshops, dance shows and beach cinema.
The Beach Canteen will offer a series of daily fitness classes throughout the 17 days, including workouts like high-intensity STRONG by Arwa TM, energetic Zumba, and mellow forms of yoga by the Art of Living. You can enjoy the market day every Saturday or watch a movie under the stars every Friday and Sunday evenings.
WHERE: On the Beach behind Sunset Mall/Kite Beach
WHEN: 23 February 2017 To 11 March 2017, Open from 12-10 pm on Weekdays and from 10am-10pm on Friday and Saturday
Ticket Pricing: FREE entry.
Eat the World DXB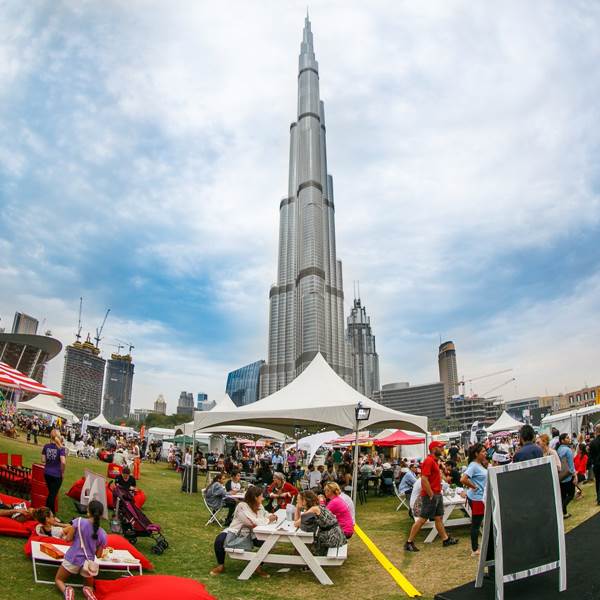 Want to enjoy the beautiful weather along with great food and music at an iconic outdoor location? From 23 to 25 February 2017, 25 of the best food traders from London, the USA and Singapore will join the UAE local favourites to serve up a unique food experience you wouldn't find anywhere else in the world.
With delicious food from four continents, masterclasses, competitions, live music, celebrity chef demos and loads of entertainment, this world-first event in the UAE will have you coming back for more. the Kids Fun Factory (Brought to you by Etisalat) is a special area where the little ones can get involved in lots of creative and educational and interactive workshops.
WHERE: Burj Park, Downtown Dubai
WHEN: 23rd – 25th February – Thursday 17.00-23.00 / Friday 12.00-23.00/ Saturday 12.00-23.00
Ticket Pricing: 40 Dhs for advance purchase, 50 Dhs at the venue, Free for children under 12. Ticket price does NOT include food. All food is Halal and there is no alcohol served in the event.
Darnival at Dubai Festival City
Darnival featuring Fatafeat Kitchen, a first of its kind event for family entertainment, is taking place on 24-25 February 2017, in partnership with Dubai Food Festival 2017. It will feature regional and international celebrity chefs, cooking demonstrations, free tasting sessions and more at Dubai Festival City Mall.
WHERE: Dubai festival City Mall
WHEN: 24 February 2017 To 25 February 2017 from 1pm – 10pm
Ticket Pricing: FREE entry.