Ramadan is a time of togetherness, when everyone wishes to be surrounded by friends and family, but there are many women and children who are alone and miss having a family around. MERAAS has launched the Donate a seat campaign to help women and children who are lonely, so that no one feels left out and forsaken. Meraas is raising Ramadan donations for Dubai Foundation for Women and Children to make a difference to the lives of those women and children who are alone and missing a place they can call home. Through this campaign Meraas aims to create spaces of togetherness for women and children from DFWAC.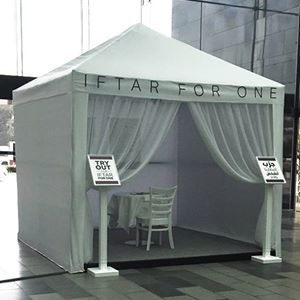 To raise awareness about the cause, there will be 'Iftar for One' installations with one table, one seat and one plate set up at City Walk, The Beach, Boxpark, and The Outlet Village. This is a symbolic representation to help people understand the loneliness that these women and children experience, especially during festive times like Ramadan and Eid.
Everyone who wishes to help can "DonateASeat" at www.donateaseat.ae and give many women and children from DFWAC their place back in the community. Every donation will go directly to DFWAC and will be utilised to help the Foundations work, be it to help a child to study; a woman to find a secure shelter; to come back to her family or to find a place to call home.