Conceive Gynaecology and Fertility Center, one of the leading assisted conception units in the UAE, has recently launched a new fertility clinic in Dubai. The launch event was a grand affair, attended by a host of dignitaries and media personnel, including the Guest of Honour, Ahmed Bin Sulayem, Executive Chairman of DMCC. The new state-of-the-art fertility Clinic located at Jumeirah Lake Towers in Dubai is a fully operational branch of the highly renowned Conceive Gynaecology and Fertility Hospital that has been offering its services in the UAE for over a decade now.
Headed by Dr. Pankaj Shrivastav, a pioneer in the field of Reproductive Medicine, Conceive team has achieved phenomenal growth and success over the last 10 years. Conceive and its staff has had the pleasure and privilege of seeing the birth of close to 2,500 babies with the help of assisted reproductive technologies. With the launch of their new fertility Clinic in Dubai at Jumeirah Lake Towers (JLT), Conceive Hospital further expands its mission to help couples dealing with infertility with a comprehensive range of state-of-the-art reproductive treatments and technologies.
New Fertility Clinic in Dubai
The new facility at JLT is well equipped with modern technology. The subtle and serene ambience at the clinic makes it even more reassuring and comforting to patients. The elegantly designed interiors, draped largely in white with gentle strokes of refreshing colors convey a sense of harmony, creating a soothing effect on even the most anxious and stressed out minds. The staff at Conceive is equally warm and welcoming. They firmly believe that everyone associated with the hospital is part of the "Conceive family".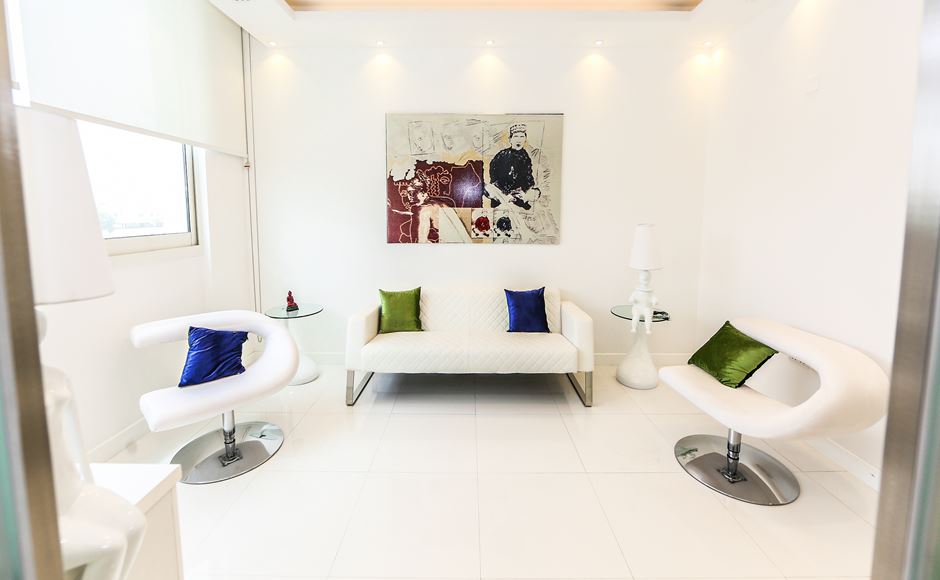 The Director of Conceive Gynaecology and Fertility Center, Dr. Pankaj Shrivastav has devoted his entire professional life to helping couples achieve their dreams of becoming parents. Before he set out to establish Conceive Fertility Hospital in 2004, Dr. Shrivastav served as Deputy Director and later as Director at UAE's first IVF Clinic, The Dubai Gynaecology and Fertility Center for 13 years. His passion and dedication towards the profession has won the trust and hearts of many. Even after 25 years of relentless service, Dr. Shrivastav works with the same passion and enthusiasm. He continues to see patients at both Sharjah and JLT facilities, working closely with his team and patients round the clock. Commenting on how he manages to divide his time between both the clinics, he said, "I spend from 8 am to 1:30 pm at the Sharjah facility and then from 2:30 pm to 5 pm, I'm available at the JLT centre. There have been challenges, but at the same time my team has grown and I'm grateful to have an extremely hardworking set of individuals by my side daily."
He and his team believe that that there is no greater pleasure than creating happy families. He says it is the happiness on people's faces that keeps the team motivated despite hectic work schedules. "We all have a common goal and work together to uphold our mantra. Each patient is so precious and we get involved as a team cheering them on as they embark on their journeys to parenthood. It's been a fantastic experience for me and there are so many positives that it's hard to imagine doing anything else! There's definitely scope for us to grow even more and the fact that there are many more families we can make is what keeps me and my team going", he said.
Conceive Gynaecology and Fertility Center offers comprehensive range of male and female Fertility treatments and services including: IVF, ICSI, Blastocyst culture, Controlled Ovarian Stimulation, Artificial Insemination, Time-lapse studies of Embryos, Pre Implantation Genetic Screening of Embryos, Advanced Male fertility checks, Assisted Embryo Hatching, Operative Laparoscopy, Colposcopy and Hysteroscopic surgeries.
Conceive also offers support and counselling to couples coping with Infertility. If you're having any kind of fertility issues, you can seek advice and support from Conceive by consulting Dr. Pankaj Shrivastav or his specialist team of doctors either at Sharjah or Dubai centers.
For consultations in Dubai, contact:
Conceive Gynaecology and Fertility Center
Near Damas Jewellery Showroom
Jumeriah Lake Towers, Dubai
United Arab Emirates
Tel: +971-4-5545 820
Mobile: +971-50-847 5666
E-mail: conceive@emirates.net.ae
or
For consultations in Sharjah, contact:
Conceive Gynaecology and Fertility Center
Near Arab Mall (Old Al Taawun Mall)
Al Taawun, Sharjah
United Arab Emirates
Tel.: +971-6-577 1822
Fax: +971-6-577 1823
Mobile: +971-50-847 5666
E-mail: conceive@emirates.net.ae
For more information about doctors at Conceive and treatments offered, please visit their website ConceiveIVF.com.
If you'd like a sneak peek at Conceive Gynaecology and Fertility center's grand launch event at JLT, Dubai, check out this video: