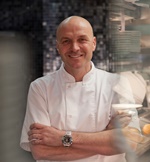 Well-known on the UK's TV food scene for his work as the host of Channel Four's 'Sunday Brunch' and the best-selling author of four books including 'Lazy Brunch' and 'The Seasoned Vegetarian', Chef Rimmer's hearty, traditional British dishes with a retro twist have proved a hit with locals and tourists alike at The Scene in Pier 7, Dubai Marina. Be it the classic British food or eclectic dishes, Chef Simon Rimmer successfully churns out some of the highest quality food.
For all you seafood lovers, we have a couple of delectable modern seafood recipes created by Chef Simon Rimmer. Absolutely stylish and bursting with flavours, these Salmon and Sea bass dishes are sure to delight you and your family.
Tangerine Salmon
Ingredients
For the sauce:
Zest and juice 3 tangerines
1 tangerines, slices into rounds with skin on
50ml rice vinegar
75g honey
50ml water
4 x 125g salmon fillets, skin on
For the Cream Fraiche mix:
200g crème fraiche
50g horseradish
1 tbs capers
1 tbs chopped dill
For the Pancakes:
200g self-raising flour
50g caster sugar
1tsp bicarbonate of soda
1 egg
50g melted butter
250ml milk
15g unsalted butter
Method
Boil the honey, juice and zest water for about 5mins to reduce by about half.
Add the slices of fruit and cook for 5 more minutes to produce a sticky glaze.
Put the salmon in a lined baking dish.
Spoon over the sauce, lay the slices on top, season and bake at 180 for 20mins (save a little sauce to brush at the end)
To make the pancakes, mix the flour, soda bicarb and sugar together in a bowl.
In a separate bowl combine the egg, butter, milk and cheese, then add this to the flour mix.
Spoon some of this mix into a lightly oiled warm frying pan and cook for 1 min each side, until the pancakes are fluffy and golden.
Mix the capers, horse radish and dill with crème fraiche.
Serve salmon on pancake with the crème fraiche.
Garnish with chopped dill.
Dubai Sea Bass With Potato Rosti
Ingredients (Serves 4)
2 large baking spuds (Potatoes) – Boiled for 7 minutes, along with the peel.
4 x 150g sea bass fillets
Olive oil and butter for frying
Salsa:
1 small red bird's eye chilli
About 20 cherry toms, cut into quarters
1tbs chopped coriander
1/2 ripe avocado, cut into small cubes
1tbs sherry vinegar
4tbs extra virgin olive oil
Method
Boil the spuds in their jackets for exactly 7 mins, cool a little and then peel. Grate coarsely, add lots of seasoning
Mould the grated potatoes into 'rostis', chill  for 20 mins, then fry over a medium heat for 4 mins each side until crisp and golden. Drain on kitchen paper.
For the salsa – simply combine with all the ingredients (although the avocado can be left until just before serving)
To cook the fish – season well and fry in the oil for a couple of mins, skin side down. Flip over, add a knob of butter and baste for 2 mins.
Serve by sitting a piece of yummy bass on top of a rosti and spoon over some refreshing salsa
Garnish with lime wedges and coriander leaves
If you are a big fan of simon Rimmer, you can also catch him cooking these recipes live at the Dubai Food Carnival, from 12-14 February 2015. He will not only be sharing his cooking secrets and kitchen tips with you, but also demonstrate his favourite seafood recipes live at the Chef's dome.