This Spring break, take your kids along to Burjuman Shopping Mall for an interactive Jungle Journey specially designed to inspire little adventurers! From 3pm to 10pm daily until 14th April, young explorers aged 4-12 are invited to meet at the Central Atrium, and enter a mysterious world of jungle adventure. A jungle play area is also available for mini explorers aged 2-4 years.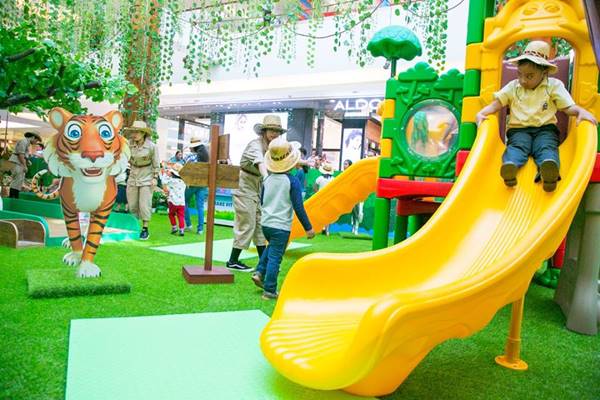 Fast becoming the destination for family fun, Burjuman Mall continues to redefine indoor entertainment for little ones, launching its brand new interactive adventure for the Spring Break: Jungle Journey.
In the beginning of the interactive "Jungle Journey" experience, kids will need to brave the "Cut Throat Bridge" to avoid being eaten by wild flowers and hungry piranhas in the mystical river. Once they cross the bridge, they will be entering a unique, beautifully coloured landscape where they can enjoy face painting with animal patterns and listen to the sounds of the jungle. To continue with their journey into the wild, they will have to pass through the "Cave of Mirrors" to face funny reflections that fill the area with sounds of laughter, reminiscent of the place Tarzan once inhabited.
After passing through the cave, the kids will find themselves in a jungle themed play area, in which they will be asked to complete tasks such as driving a ball through the slippery and challenging jungle pathway to save themselves from falling into the "Snake Pit Cauldron", knocking down some pins at "Tiger Bowling" to avoid the attack of the tigers, and finding snake eggs and shooting them back in the den in the game of "Snake Golf".
At the end of their journey, kids will have to tiptoe through the stone pathway and balance along the wooden bridge to exit the jungle and enter the "Forest Artistry" zone, where they can encounter live chirping birds and engage in jungle themed arts and crafts.
In addition to this, kids can also watch the magnificent "Jungle Parade" at 7pm, 8pm and 9pm every Thursday, Friday and Saturday until the 31st of March.
Event Dates: 15th of March- 14th of April
Event Timings: 3pm-10 pm
Roaming Entertainment Timings: 17th, 22nd, 23rd, 24th, 29th, 30th, 31st of March-7pm, 8pm & 9 pm
Entry: FREE