As the clock strikes midnight, dazzling display of fireworks lights up the skies in Dubai across various places to welcome the New Year.  If you're planning to enjoy the spectacle at midnight, we've rounded up some of the best places to watch fireworks in Dubai with your children to ring in the New Year 2017.
Burj Khalifa and Downtown Dubai
Without an argument, the fireworks display atop the world's tallest tower will be the most awesome spectacle to watch. Be in Downtown Dubai this New Years eve to be amazed by the astonishing display of light, music and pyrotechnics displayed from Burj Khalifa, Dubai Opera and Dubai Fountain area. Burj Khalifa will transform into a giant LED screen displaying beautiful designs and sequences followed by breath-taking fireworks enveloping the majestic tower as the final countdown to the New Year 2017 begins.
Best viewing spots to watch the Burj Khalifa fireworks
You can watch the spectacle from Burj Park, Dubai Fountain area or anywhere in Downtown Dubai and Mohammed Bin Rashid Boulevard. There also special areas designated in Downtown for families only.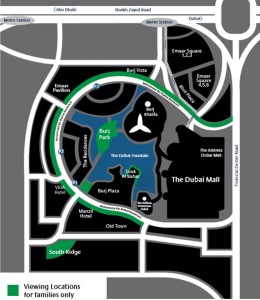 Thanks to Burj Khalifa's 828 m height, you can get a good view of the fireworks from several spots along Al Khail Road and Jumeirah Beach Roads. Box Park and Citywalk Dubai are other fabulous locations closer to Downtown and Burj Khalifa. With Dubai Water Canal opening this year, you can find a good viewing spot along it's promenade. There will also be fireworks display along Dubai water canal from Burj Khalifa to Dubai creek harbour. However the footbridges across the canal and the walk on the Sheikh Zayed bridge above the water canal will be closed for public safety.
Many people also gather in the Al Qouz industrial area, along First Al Khail street, especially in the open area behind Oasis center. Another popular viewing spot is the open area near Latifa Hospital/Al Wasl Sports Club. Most of these areas offer a very good view of the Burj Khalifa and are less congested than Downtown. If you're living in and around Dubailand and want to get a glimpse of fireworks without heading into traffic, park your car on Umm Suqeim Road, close to Dubai Hills/Al Barsha Kings School and you can view Burj Khalifa, Burj Al Arab and Festival City fireworks from the same spot.
Transportation and road closures

About a Million People are expected to be in Downtown Dubai to celebrate the New Year's Eve, so you can expect traffic congestion in Downtown and surrounding areas. RTA has advised commuters to use public transport for ease of travel. Some of the roads in and around Downtown and Business Bay may be closed; Mohammed Bin Rashid Boulevard will be closed by 6pm, hence people are advised to arrive in downtown early.  Burj Khalifa, Business Bay and Financial Centre metro stations all serve the Downtown Dubai area and additional buses will feed the metro stations. Please note that the Burj Khalifa metro station will be closed on 31st December from 10 pm until 6 am next morning.
Watch from your home:
If you cannot make it to Downtown Dubai or want to stay cozy and watch the fireworks from the comfort of your home, simply tune-in to one of local TV Channels (Dubai One) or watch live streaming of Fireworks.
Fireworks at Burj Al Arab
New Years Eve at Dubai's luxury hotel Burj Al Arab is equally spectacular. Last New Years Eve Burj Al Arab came up with a 15 minute long fireworks show making it the longest fireworks display in the UAE. For those of you who are not dining at the Burj Al Arab, but still want to get a glimpse of the grand fireworks, get to the Jumeirah Beach Road early in the evening a find a good viewing spot along the Beach or in the Umm Suqeim Park.
Dubai Ferry Cruise
Dubai Ferry cruise is an awesome way to beat the traffic and enjoy the fireworks at Burj Al Arab. You can buy your tickets at either the Dubai Marina or the Al Ghubaiba Ferry Station ticket office. Unfortunately tickets for the Dubai Ferry are not available to purchase in advance online, you will need to go to the ticket office at ferry stations or you can call 056-2190276 to book tickets.
There are three sailings from the Marina, Al Ghubaiba  and Dubai water Canal stations. Boarding  starts at 8:30 PM and the ferry leaves at 9 PM. It returns at 1:30 AM. Prices are 300 dirhams for silver class and 450 dirhams for gold class. Prices for children aged between two and 10 years old will be 50% of the adult price.  Children under two travel free. This is just a cruise to view the fireworks and does not include food or drinks.
You can contact the RTA on their free number 800 9090 for more information.
Fireworks at Palm Jumeirah and Atlantis
You can celebrate the New Year's Eve in style, by making a reservation for the Gala Dinner under  at Atlantis or other hotels on the Palm Jumeirah. Most hotels on the Palm have their own fireworks and New Years Eve activities planned. From spectacular fireworks displays to incredible and sumptuous feasts all night, diners can enjoy fantastic views of The Palm and the Dubai Skyline.
More places to view fireworks
In addition to these, fireworks will also go up at Madinat Jumeirah, The Walk and The Beach at JBR, Global Village, Dubai Creek, Golf & Yacht Club and Dubai Festival City.
So where ever you wish to watch the fireworks in Dubai from, we hope you enjoy the celebrations and have a wonderful time as you bid farewell to the current year.