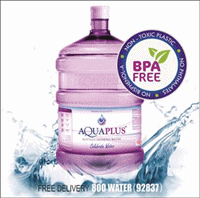 Aquaplus Energized Fresh Water
800 Water (800 92837)
Research suggests that alkaline water is healthier than the plain mineral water. Alkaline water contains special mineral ions that can neutralize the excess acids in the body and increase cell hydration making us feel fresh and energetic throughout the day.
The concept of alkaline water has already made a huge headway in evolved markets such as USA, Korea and Japan and has now arrived in the UAE too! Aquaplus Energized Fresh Water is a new premium water brand in the UAE that is offering fresh, pure and energized alkaline water for everyday consumption. With huge emphasis on health and safety, Aquaplus is revolutionizing the water consumption in this region.
Read more about Aquaplus Energized Water.
Please login to claim this deal
.