Want to take your children on an unforgettable animal adventure safari? No, you don't have to travel to an exotic land to experience an animal adventure. You can now enjoy this unique and one of a kind experience, right here in the UAE!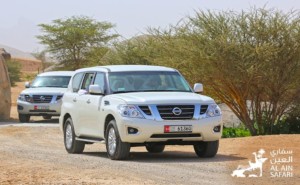 Al Ain Zoo is launching the world's largest man-made safari, the most spectacular adventure that extends over 217 hectares, offering you sights of more than 200 animals roaming freely in their natural habitat. Starting from Wednesday, 20th April 2016, Al Ain Safari will give visitors a chance to get up close and personal with several species of animals including the Arabian and African desert animals, Giraffes, Lion, Zebra, Hippos and more, with future expansion plans and addition of many more species. Visitors can enjoy guided safari tours on 4×4 vehicles that will take them through massive expanses of the desert park, offering glimpses of the flora, fauna and the beautiful mountains of Al Ain serrating the horizon.
Founded in 1968 by the late Sheikh Zayed, Al Ain Zoo has always been a popular family destination, providing wildlife, entertainment and learning experiences to visitors of all ages. With the addition of new Safari tours, Al Ain Zoo will indeed be a perfect getaway, where families can enjoy a unique and uplifting experience of interacting with varied wildlife in the middle of a desert.
Al Ain Zoo has also opened Sheikh Zayed Desert Learning Center, a new iconic learning center that features UAE Geology & Petrology, wildlife conservation efforts and sustainability projects through a journey from the past to the future in an innovative context.
Al Ain Safari Tickets: Tickets for the Al Ain safari cost AED 200 per person and visitors can also rent a Nissan Patrol for six passengers (private tour) at a cost of AED 1000. However, children under the age of 3 are not allowed inside the private tour vehicles.
Timings for private safari tours: 5 tours daily at 10 am, 11 am, 1pm, 3pm and 4 pm. The safari is likely to take approximately one to one and half hours.
For more information, please call 800 555.
Images: Courtesy Al Ain Zoo