The joy of nurturing a life in your womb is an incredible feeling, but it also overwhelms you with a great sense of responsibility. You know that eating healthy is the best thing you can do for yourself and your baby. Eating a well-balanced diet right from the beginning ensures that your baby gets the best start possible.
Fruits being incredibly rich in fibre, vitamins and minerals form a vital part of pregnancy diet. Pregnant women are encouraged to eat as much and as many varieties of fruits as possible (barring a few like papaya and pineapple). While most fruits are beneficial to expectant mums, some of them are so eminently packed with vital nutrients crucial to pregnancy, that they are an absolute "Must-Have" and need to be an essential part of your daily diet. Make sure you don't miss out the nutritional goodness offered by these 5 must have fruits for a healthy pregnancy.
Avocado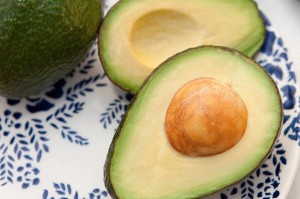 Avocados are highly beneficial due to their omega-3 fatty acids, antioxidants and mineral content. It is the only fruit that caters fair amount of healthy fats, which not only keeps you full and satiated but also supplies the fatty acids that are required for the development of millions of new cells as your baby grows each day. During pregnancy you often feel hungry and Avocado can make a great low-calorie snack. It also reduces irritability, depression and lethargy that you may experience during pregnancy. Being rich in Folic acid and Iron, avocados may prevent neurological defects in the baby and anaemia in the mother. There is also abundant dietary fibre in avocados which helps to prevent constipation, a common pregnancy problem. If you have issues with your blood pressure, potassium rich avocados can help regulate the sodium-potassium imbalance and blood pressure.
Banana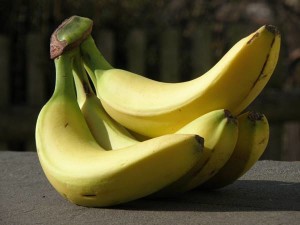 Bananas are rich in carbohydrates, potassium, iron, vitamin C, B6, antioxidants and dietary fibre. We all know banana is a great instant energizer, but this carbohydrate rich power house is also an amazing "feel-good" food. Tryptophan, a protein found in banana is converted by your body into serotonin, which reduces your mood swings and makes you feel happier.  While the potassium in banana helps maintain blood pressure, vitamin C and antioxidants boost the immune system.
Apple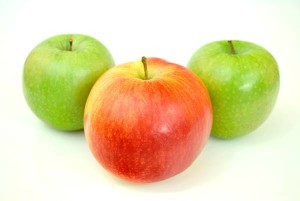 Although apples contain only moderate amounts of  iron, they help greatly in absorption of iron from other food sources and supplements. If you're suffering from iron-deficiency anemia, an apple a day will do wonders to your iron and haemoglobin levels. Apples also have reasonable amounts of calcium, which supplements the need for extra calcium needs during pregnancy.  According to a recent study, children of women who consumed apples during pregnancy are protected from developing asthma and wheezing problems in their later age.
Berries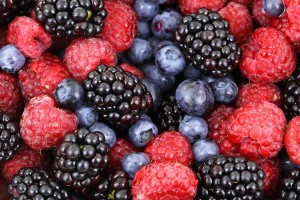 Berries are storehouses of vitamins & antioxidants. All forms of berries (strawberries, raspberries, blueberries, blackberries, cranberries etc.) are packed with Vitamin C, Folic acid, potassium and fiber. Blackberries and raspberries especially have high folic acid content, which you know is mandatory for healthy development of your baby's nervous system. Berries also protect you from seasonal infections like common colds and flu. If constipation is bothering you, just add a handful of berries to your yoghurt, desserts or breakfast cereal every day.
Citrus Fruits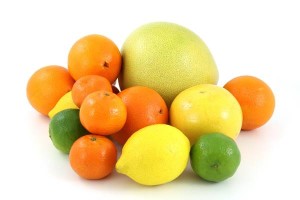 From beating morning sickness to preventing dehydration, boosting immunity to aiding the absorption of other nutrients, citrus fruits come out as clear winners from all aspects. Grapefruit, Orange, Mandarin, Tangerine, Lemon or Minneola, all forms of citrus fruits are laden with vitamin C, A, B6, calcium, flavonoids, potassium, folic acid, plenty of water and dietary fibre. Citrus fruits also aid the absorption of other nutrients like Iron and Vitamin D. Vitamin D as we all know is essential for calcium absorption. According to a research study at the University of Southampton, a woman's Vitamin D levels during pregnancy can affect her child's muscle strength and development. The report suggests that children are more likely to have stronger muscles and better grip if their mothers had a higher level of Vitamin D in their body during pregnancy. Therefore, citrus fruits not only supply nutrients essential to pregnancy, but also aid the absorption of other nutrients that are vital for your child's growth and development at a later age.
Suggested reading:
Mothers Vitamin D levels can affect her child's future?